Senior Cat Needs The Best Home After Losing Only Family He's Ever Known
"[The owner] was crying and you could tell this was an incredibly difficult decision for her. It was heartbreaking to watch." ❤️️😭
Nino lived with the same family his entire life, until recently, when his mom lost her job and then her home. She tried and tried to find someone who could take 16-year-old Nino in, but unfortunately, came up empty. None of her family, friends or even acquaintances were in a position where they could take him, and so even though it broke her heart, she had to surrender him to Chicago Animal Care and Control (CACC). 
Jennifer Burke
Jennifer Burke, an avid foster mom, was volunteering at CACC when Nino's mom brought him in. She could see the pain in the woman's eyes as she said goodbye to her best friend, and it broke Burke's heart.
"I saw how truly sad she was to have to give up her furry companion of 16 years," Burke told The Dodo. "She was crying and you could tell this was an incredibly difficult decision for her. It was heartbreaking to watch. I have two 16-year-old cats myself, whom I have had since they were kittens. I was devastated for both Nino and his owner. When life gets especially challenging, we need our pets the most for support and companionship. To have to split up at this time in their lives, was just unfair for them both."
Jennifer Burke
Due to his age, Nino is much more susceptible to catching something and getting sick in a shelter environment, and so everyone at the shelter knew that they needed to get him into a foster home as quickly as possible. They started networking him like crazy, contacting every single rescue and foster they could think of, but unfortunately, at the end of the day, Nino was still at the shelter. Burke went home that night feeling a little defeated, and as she lay in bed, she couldn't get poor Nino out of her head. 
"I simply couldn't shake the thought of Nino sleeping alone, for the first time in his life, in a small cage in a stressful shelter and not knowing his fate," Burke said.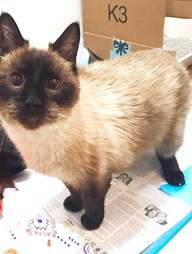 Jennifer Burke
For months, Burke and her family had had a steady stream of foster kittens staying in their home, but only four days before Nino was surrendered, they had returned the final litter to the rescue they came from to be put up for adoption. Suddenly, she realized that she and her family were meant to be Nino's foster family.
"Our fosters always stay in my 8-year-old daughter's bedroom, separated from our resident animals. It's always so sad to return fosters to the shelter as you fall in love with them and they become part of your family. We truly love fostering and it brings such joy to our family. Especially for my daughter, Noa. The first couple of nights after we returned the foster kittens, Noa was so sad at bedtime and complained of being lonely. Lying in bed, I realized we could foster Nino."
Jennifer Burke
That night, Burke sent a text to the executive director of Heartland Animal Shelter, where her family fosters through, and told her she and her family would foster Nino. The next day, a volunteer picked Nino up from the shelter and brought him to Burke's home, where he officially became their newest foster. 
From the moment he arrived in his foster home, Nino's family has been blown away by how well he's adjusted to his new living situation. After living in the same home his entire life, one would think all the change would be jarring for him — but he's handling the transition with grace, and really just wants love and affection from anyone who is willing to give it to him.
Jennifer Burke
"I cannot imagine how confusing and sad this is for him, but he is a total rock star," Burke said. "He isn't fearful or angry. It's amazing. Nino is such a gentle soul."
Nino is loving spending him with his new foster family, and follows them around to get as many cuddles as possible. That's exactly what Nino is looking for in his forever home, too. He really just wants a quiet home where he can enjoy his twilight years with people who love him. For Nino, that is enough.
Jennifer Burke
"A more tranquil home environment would suit his style," Burke said. "Someplace where he can be spoiled rotten and enjoy the simpler things in life. He simply wants human interaction and affection."