People Find Horribly Matted Dog Abandoned In Small Town — Then Another And Another
Fifteen dogs were found on the same day — and rescuers don't think it's a coincidence.
On Monday night, the RSPCA got a call about four Newfoundlands, two cockapoos and two Lhasa Apsos who had been dumped in Vale of Belvoir, England. All eight dogs were extremely matted and in terrible condition, and rescuers were appalled that someone could have let them get into such a state. Not long after finding the mistreated dogs, they got a call about seven Newfoundlands — who had been dumped in Norfolk, England, around the same time as the first group. 
RSPCA
The second group of dogs was in the same terrible condition that the first group was found in, and considering the similarities in breeds, health and the way they were dumped, rescuers are hesitant to call this a coincidence.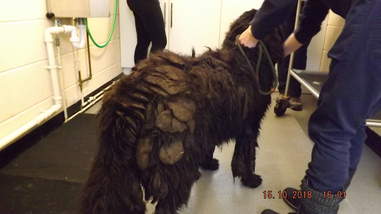 RSPCA
"The RSPCA does not often see dogs of these breeds so it's unlikely to be a coincidence that this has happened relatively close together and on the same day," Dean Astillberry, an inspector with the RSPCA, said in a press release.
RSPCA
The dogs were taken in by the RSPCA's Radcliffe shelter, and everyone at the shelter was shocked by just how matted and dirty they all were. 
"They are such lovely friendly dogs, they deserve to be groomed and looked after properly; if no one comes forward we will be rehoming these dogs and I am confident they will find a home that shows them the love and attention they deserve," Kate Burris, an inspector with the RSPCA, said in a press release.
RSPCA
Once the dogs were all settled into the shelter and had been checked over, everyone came together and set about the daunting task of shaving off each dog's matted coat — which turned out to be quite the ordeal.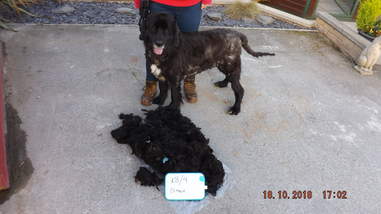 RSPCA
A local groomers shop volunteered its services and came by to help with some of the more matted, trickier cases.  One dog had 16 pounds of fur shaved off of her frail body. 
"It's been a real team effort to get these dogs sorted but it has all paid off in the end," Burris said.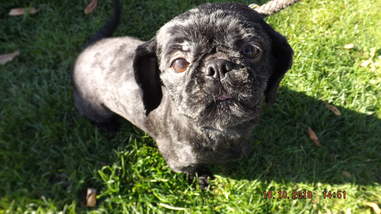 RSPCA
When all was said and done, every single one of the dogs looked so different, and so much happier than when they first arrived at the shelter. The RSPCA is still investigating both incidents of abandonment, and if no one steps up to claim these dogs, they will all be put up for adoption and sent off to fantastic new forever homes.
RSPCA
"We don't know for definite if the incidents are linked but it is certainly plausible," Astillberry said. "We hope that a member of the public may recognize these dogs or have some information for us, if so they can contact our inspectorate appeal line in confidence on 0300 123 8018."