Coyote Was Almost Killed Because He Was Too Friendly
This is why you're not supposed to feed wild animals.
By the time you finish reading this, Cliff the coyote may already be in custody. The tracking collar around his neck pretty much assures that.
And there's the fact that he's not particularly afraid of humans - which, in the end, almost cost him his life.
Dave Hornoff
For the past year and a half - Cliff's entire life - he's had the run of a more-than-3-mile stretch around the Rhode Island cities of Middletown and Newport.
A local celebrity, Cliff was often seen strutting down streets and boulevards. Cliff had even learned where to find the best eats - typically in the alleys where restaurants would throw leftover food into a dumpster. The coyote was wily enough to open the lid, clean up at the buffet and then close the lid on his way out.
Dave Hornoff
Many residents didn't even want Cliff to bother with dumpster doors and simply left food outside for him instead.
Earlier this month, Cliff's high-rolling lifestyle came crashing down. Anthony Pesare, the Middletown police chief, declared Cliff would need to be killed so as not to pose a public threat.
"While it is never our first choice to use lethal force on an animal, our attempts at using non-lethal force did not deter this coyote's dangerous behavior," the chief said in a statement.
Dave Hornoff saw this coming a mile away. A wildlife expert and volunteer with the Narragansett Bay Coyote Study, Hornoff had seen a lot of Cliff in the neighborhood. He also saw how people would gather around and dote over the coyote whenever he made an appearance.
Dave Hornoff
But Hornoff wasn't a fawning fan. Instead, he would try to scare off the animal.
Because, as wildlife experts have known for years, when it comes to wildlife, fear can be a lifesaver.
"What I try to do is haze him immediately and get him to run and, you know, try to make him afraid of people," Hornoff tells The Dodo. "It's really important. The biggest issue is how do we co-exist with coyotes. They're not only found in the woods, but they're in local neighborhoods."
In Cliff's case, that's really in neighborhoods. Mostly because the people of Middletown and Newport had made him feel so welcome.
Dave Hornoff
"The most important thing is to teach people how to be more aware of not feeding wildlife, intentionally or unintentionally," Hornoff says. "Like taking trash cans inside and not leaving food out on the porch."
"Because once they become habituated," he says, "they lose the fear of people and they move in and they could become a threat to people's pets."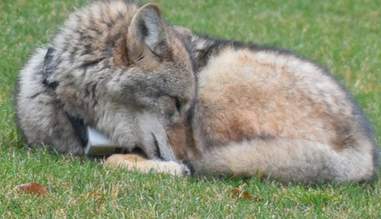 Dave Hornoff
But, Cliff's celebrity may have also saved his life. A petition to call off the hunt drew nearly 40,000 signatures. Last week, authorities relented. Instead of a death sentence, Cliff, when captured, would spend the rest of his days in a zoo.
It didn't seem like much of an upgrade for an animal who belongs in the wild, if not exactly the suburbs of Rhode Island.
But then, on Friday morning, the Rhode Island Department of Environmental Management decided he wouldn't be zoo-bound after all.
Dave Hornoff
"He's going to be released back into a remote area in Rhode Island," Hornoff says. "He'll hopefully create a new pack. This is just a great turnaround."
For a coyote who was nearly killed by kindness, it's a second chance to be wild.
Dave Hornoff
Now, all authorities have to do is catch him - which shouldn't be too hard when it comes to this celebrity dumpster diver.
Want to learn more about how we can co-exist with coyotes, as their own natural environment shrinks? Click here.
Watch a video about Cliff the coyote below: