A little pup spent three weeks in a shelter with a broken leg after his owners refused to pick him up to avoid the cost of his medical treatment. Thanks to a kindhearted stranger, he's now on the mend.
Chucky the rat terrier was turned in to East Valley Animal Shelter in Van Nuys, California, last month after he was hit by a car. He had serious injuries, including a clean break in his tibia and a fractured pelvis.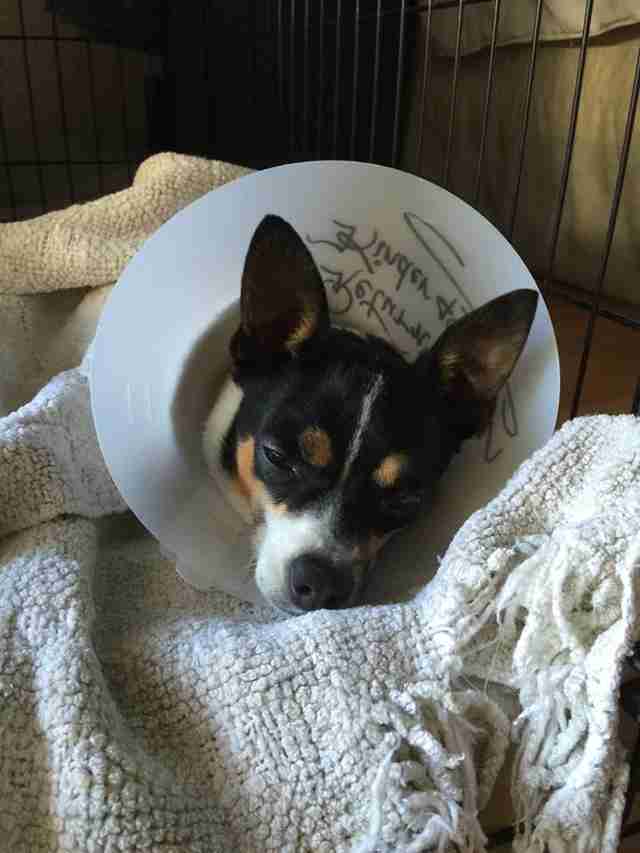 "His leg was, like, snapped in half," Kaitlyn Rice, who works with another local rescue part-time, told The Dodo. "It was really nasty."
Fortunately, the shelter was able to look up Chucky's owners and called them in. But when they found out that he had been hit by a car, they decided to leave him at the shelter. "They surrendered him to the shelter because they didn't want to pay," Rice said.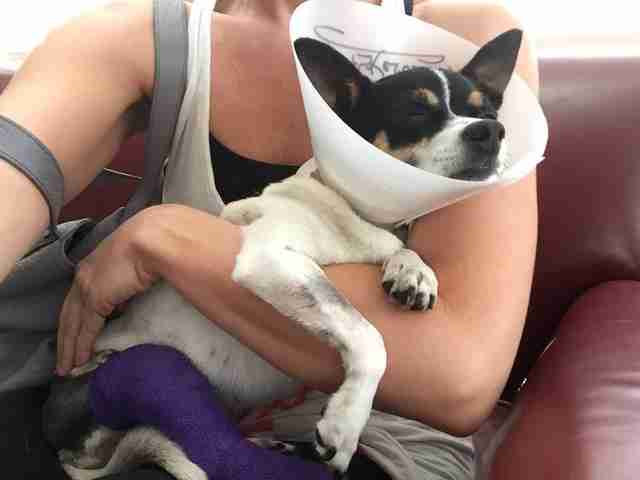 For the next three weeks Chucky lived in a cage in the back of the shelter, his shattered leg wrapped up in a splint. "They tried to hold it in place but the shelter doesn't have the funds to fix every dog that comes in with a broken leg," Rice explained. "And there are hundreds."
"The public doesn't know about these dogs," she added. "If you went to the shelter you wouldn't know that there are like 100 more dogs in the back that have medical issues." In these cases, Rice noted, they're euthanized unless a no-kill rescue steps up to take them.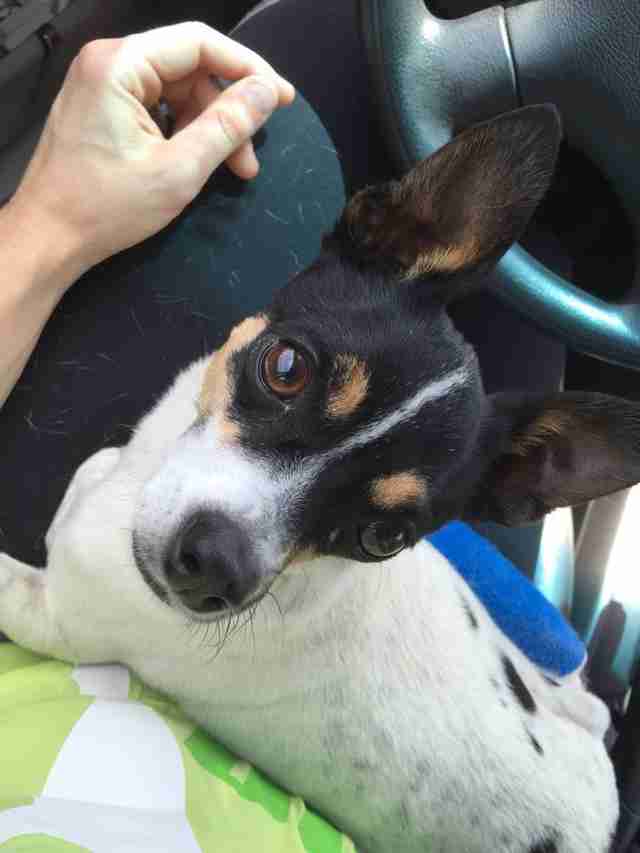 Fortunately, Chucky was one of the lucky ones. Rice had learned about the little pup from her work in the rescue community, and fell in love. Though she didn't have the money for his surgery, she knew she had to save him. She picked him up from the shelter last week.
It was clear that Chucky's rough few weeks had affected him, though. "When I picked him up at the shelter ... he was so scared," Rice said. "He looked at me like, 'Who the heck are you' ... I held him and he was holding onto me so tightly with his little fingers."
But the second he got to the car, he seemed to realize he was going home. "He calmed down," Rice said. "He just relaxed."
Though Rice didn't have the money for his $1,500 surgery, she put down what she could to make sure he was treated right away. She knew she couldn't wait because "he'd been there too long," she explained. She's now raising the money to cover his treatment.
Since his surgery, Chucky has bounced right back to normal. "He is such a sweetheart," Rice said. "He's so sweet, loves everyone."
Rice will be fostering him until he's adopted, and said he would make a great addition to a loving home. Though he's a little "feisty" and isn't fond of her cat, he loves her other dogs and was clearly taken care of before his owners surrendered him.
"He's a great dog," she said. "Once we got home, he became himself. Which is great. Dogs are more resilient than people; people would still be traumatized."
Rice is raising money to cover Chucky's surgery. To make a donation to his care, click here. If you're interested in adopting Chucky, you can contact Ace of Hearts Dog Rescue at dogsfromheaven@aol.com.