Choosing The Animal You Will Watch Be Killed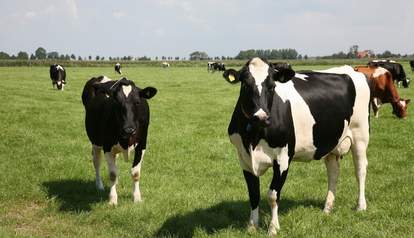 There's something about eating animals that we raise for food - perhaps the intuitive sense that we know it's wrong to raise them for food - that leads meat eaters to engage in some far-fetched and ill-advised stunts. The most recent example involves a municipal proposal in Omaha, Nebraska that will allow consumers to walk into a feedlot, choose the animal they will see die, and witness the beast's slaughter before eating the tortured creature's flesh. The program is called "open meat market."
There are several possible ways to interpret this proposal, which now sits before Omaha's city council. One: it's barbaric, doing little more than indulging our basest tendency to get off on absolute dominance over another sentient animal's body. Two: it's honest, bringing the carnivorous consumer closer to the bone of violence endemic to all animal products. Three: it's logical, merely an extension of choosing our fish from a Chinese restaurant tank. Four: it's a cheap shot, yet another slow food exhibitionist gambit engineered to nurture a blood-stained sense of "community." I could go on.
Whatever the reason, none of them could possibly justify this flagrant, municipally sponsored, act of stupidity. Oppose it here. And take perverse solace in these sort of events as they emerge. To me, it means advocates of raising and killing animals are running scared, struggling to make what we're increasingly realizing is sick seem normal, worthy of being treated like a game.
Like all games, this will end.
It must.