Balding And Lonely Circus Bear Gets New Lease On Life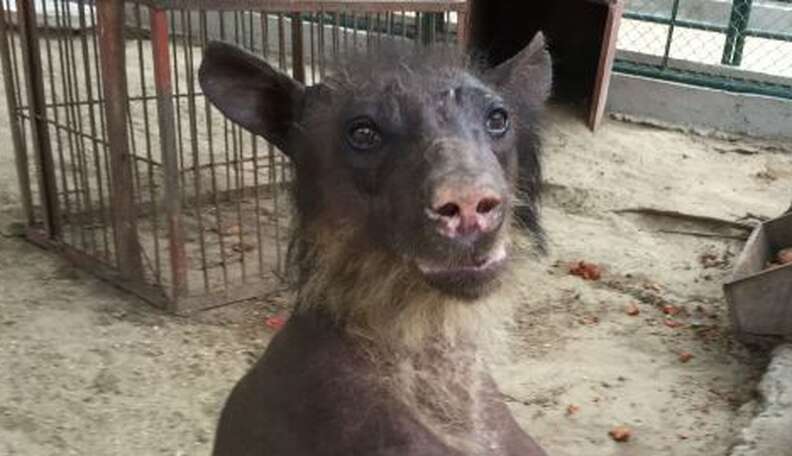 <p> <a href="http://www.ad-international.org/adi_home/">Animal Defenders International</a><span></span> </p>
<p> <a href="http://www.ad-international.org/adi_home/">Animal Defenders International</a><span></span> </p>
An endangered Andean bear named Cholita is awaiting an airlift to the U.S. after a brutal life in a Peruvian circus has left her maimed and bald.

The bear was discovered two weeks ago during a surprise raid on a circus in north Peru by Animal Defenders International (ADI).
During the raid, ADI's president, Jan Creamer, unexpectedly "came face to face" with the suffering bear.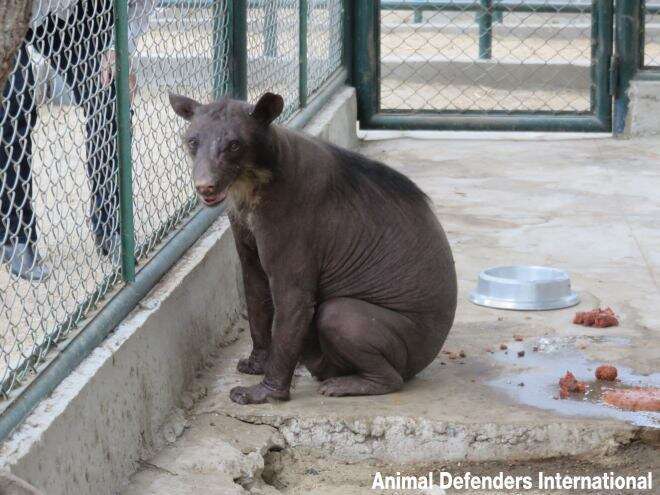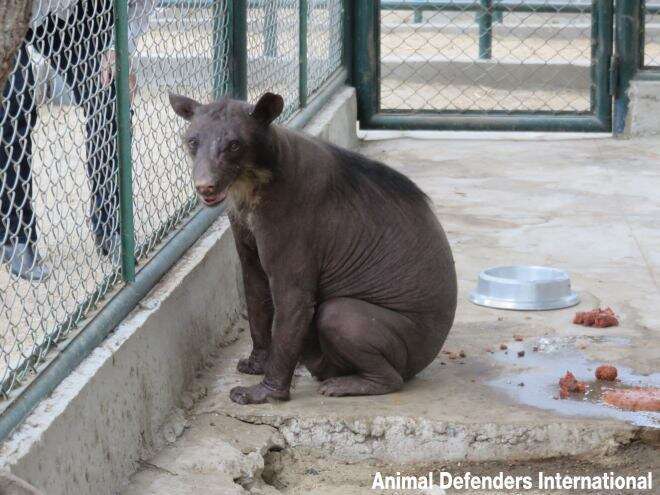 Cholita's condition was arresting. Her fingers "had been cut down to stumps by the circus to remove her claws." Her teeth were broken. And she was almost completely hairless and "barely recognizable as an endangered spectacled bear," ADI says in a statement.
For comparison, see a healthy spectacled (Andean) bear here.
According to the organization, authorities in Peru immediately removed Cholita from the circus; a 2012 law fully banned using wild animals in circuses in Peru, although enforcement is reportedly slow.
For now, Cholita is being housed at a local zoo. Tim Phillips, vice president of ADI, told The Dodo from Lima that ADI is negotiating with the zoo and Peruvian authorities so the organization can have full custody of Cholita.
"If so," he says, "we will collect Cholita next week and move her to the ADI temporary custody center. Our veterinary team will be able to monitor her and prepare her for [a flight to the U.S.]."
He says the U.S. Fish and Wildlife Service must OK an import permit for Cholita to enter the U.S. - and Peruvian authorities must agree to an export.
ADI is hoping to fly Cholita to The Wild Animal Sanctuary in Colorado, which offers 720 acres of species-specific habitat.
The sanctuary is also poised to take in 33 former circus lions who ADI recently rescued from Peru and Colombia under its Operation Spirit of Freedom campaign. ADI says this is the biggest rescue and enforcement operation ever undertaken to eliminate all wild animals in circuses in both nations. Phillips says the organization has rescued 70 animals in the mission so far.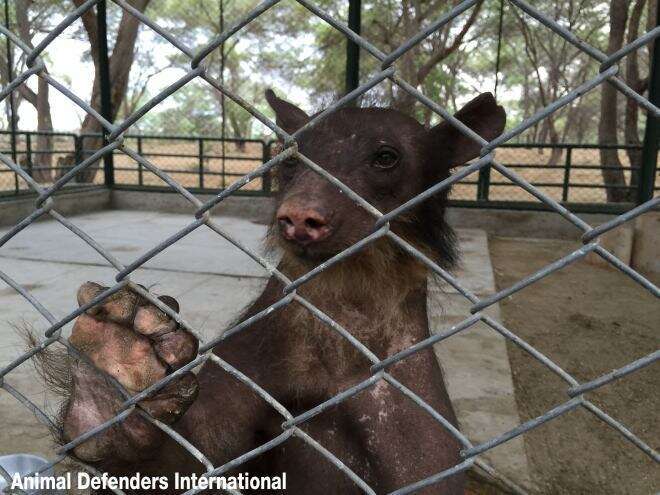 In the meantime, staff at the sanctuary in Colorado say they're eager and ready for the bear to arrive.

"Cholita will require special care, especially with her skin problem and because her toes are cut back severely for declawing," executive director Pat Craig told The Dodo. "The hair issue will also require some care, but a lot of it will resolve itself because it is stress-based."
Craig notes Cholita won't be introduced to the other bears immediately because of her current condition. But eventually, he says, "bears like to be together when they are healthy and happy."
The sanctuary has received more than 40 exotic animals from zoos and circuses, Craig says. It took in 25 lions from Bolivia in 2011 - from another rescue operation launched by ADI.
Tim Phillips from ADI says the organization hopes to fly Cholita out by the second half of April in a cargo aircraft that will also carry the 33 lions.
"Cholita's is a very sad story," he says. "She was badly mutilated. She has been alone for years. She really deserves a happy ending."
Learn more about ADI's animal rescues and how to help by clicking here, and you can watch an unforgettable video of Cholita below: