How We Gave A Paralyzed Stray Dog A Loving Home
<p> Jose Alberto / Catarina Olivo </p>
Jose Alberto
This was Chiquita, drinking out of a plastic cup on the side on the road, desperately trying to eat her kibble before other strays got to it. Homeless, tired and dragging her hind legs across the pavement of the alleyway, she kept fighting. Hope was sparked when the locals pitched in and purchased her a wheelchair so she could walk; that happiness did not last though when one day her chair was stolen. She had almost lost hope until a young man posted a video of her on Facebook, catching the attention of many.
People were outraged to hear that she had been living like this for her entire life with paralyzed back legs. Unfortunately this is all too common in Peru: dogs roaming the streets, many with ailments, looking for food. Thankfully there are amazing animal rescuers trying to help and make a difference, but they face mounting vet bills and have to rely on others to donate so they can keep up the hard work.
Luckily the man who posted the viral video was a rescuer in Lima, Peru and knew a wonderful women who fights everyday to save dogs and cats in distress. After i saw the video I was crushed; this poor little dog forced to live in such terrible conditions. Immediately I contacted the man who posted the video and asked him if there was anything at all i could do. I am an animal activist and I foster dogs from all over the country, but this was way out of my comfort zone. He said the area in which the dog was located was extremely dangerous and no taxi would take him there, so it would be difficult to extract her. The man told me he and a group of his rescue friends could venture to the alleyway, but that the dog would need a place to go and the money would be a huge issue.
He referred me to his friend Celeste and said to message her about Chiquita. After that, things started to move fast. She agreed to brave the neighborhood the dog was in and pull her out of there as soon as possible. The group of rescuers went down to the dangerous district, in search of the little crippled girl. Once they found her, Celeste tried taking pictures and a group of thieves stole her cell phone. I was told the risks of entering that area, but never imagined such a thing would happen. Once they had her safely in the car, it was time to go to the veterinarian. Petshop Charterhouse in Lima, Peru was where she would reside for 20 days of medicated bathes and a special pill regimen. If it was not for those amazing souls who took time out of their lives to save Chiquita and the impeccable vet Tito, none of this would have been possible.
Next, was tackling the problem of getting her to the US. I contacted multiple small pilot companies, friends in the army, organizations that fly dogs and all of them had issues with getting her to the closest airport. That was until i was referred to a page for a company called PetWings. I heard a response within the hour telling me they would love to help. They informed me they take care of all legalities and paperwork, which includes proper vaccination, health certificate for the dog and customs in both countries. I was filled with joy that finally she would be coming to a new home for forever love and care, the only catch was the price: $1,345. It was very steep and we knew we would need help to pay such a large sum.
So we set up a YouCaring page where people could donate to help little Chiquita. I posted the link to every local and non-local rescue group and animal disability page I could find, people were quick to share but not give a donation. My family and I understood what we were asking, but we would not stand by while that poor dog had to be put back on the street, especially after all the work our new friends in Lima had done. Our YouCaring page made $670 thanks to the animal lovers with big hearts, so we had to take the remaining $670 out of pocket, which was a huge financial strain. It was all worth it though to know this little dog - whom we named Maxine - would be out of harm's way.
The day finally came when we would pick Maxine up from the airport, it was only an hour-and-a-half drive, but the whole time my family and I were filled with nerves. We hoped her flight was not traumatizing in anyway and that she could sense her new life was approaching. We arrived at the cargo section at 7 p.m. and hurriedly walked to the back room, the double doors burst open and out came a large crate covered in loading stickers, I peeked inside and there she was. Nervous yet excited, we loaded her into the truck and made the trip home. Once she was out of her confinement it was a totally different dog, rolling on her new fluffy bed, chasing us up the hallway and playing with her new siblings.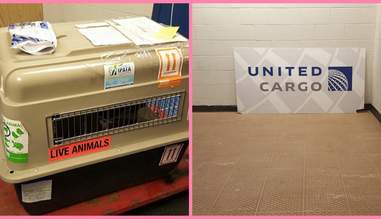 Catarina Olivo
All of this happened because one man shared a video and caring souls worked together to save another being from a life of sorrow. We want to thank all that made this possible, and we hope her story sheds light on the treacherous lives the animals in that country face. Maxine should not be the only lucky one, they all deserve this same happiness. We would also love to thank HandicappedPets (Walkin Wheels) for providing Maxine's new wheelchair that will be purchased thanks to wonderful donations received. After reading this article, we pray others find compassion in their hearts and come forward to help in anyway they can.
Catarina Olivo
If you would like to follow her story, check out her Facebook Page "Maxine's Mission," I am also attaching the YouCaring page in which anyone can donate; any amount is greatly appreciated no matter how small it may seem. Maxine needs possible reconstruction surgery and a neurological visit, as she can not control her pee or poo due to her injury. This little girl is not out of the woods yet, but some day soon we hope this will all be behind her. If by some chance the YouCaring takes in more than the amount needed, every cent will go to homeless dogs and cats in Lima, Peru for vet care/food.
Catarina Olivo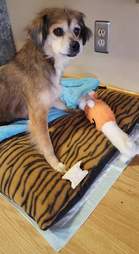 Catarina Olivo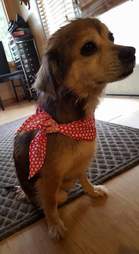 Catarina Olivo
Catarina Olivo