Stray Dog Had Her Wheelchair Stolen ... And Then She Found Love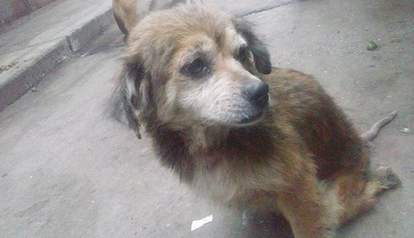 <p> Celeste Lorena Bensa Baylon </p>
They've named her Chiquita. They being the great people who banded together to rescue her from the dangerous streets of Lima, Peru. She used to have a little wheelchair, she used to be able to "walk," until it was stolen from her. The confusion and terror which must have swept over her during that callous act fills you with a mix of immense sadness and anger. What kind of human being steals a wheelchair from a disabled dog leaving her to try and drag her crumpled little body on the street.
We discovered little Chiquita's story when we stumbled across a short 15 second video on our Facebook newsfeed. We could have simply clicked "Like" and have moved on but this disabled little girl, though thousands of miles away from us, needed help.
Over the following days we were in contact with those on the ground in Lima, a few days later she was finally rescued by a few dedicated, selfless animal welfare activists. Chiquita was rescued from a very dangerous part of Lima - it is amazing the little girl survived as long as she did. Despite Chiquita's past she is a happy dog, loves getting hugs and loves giving kisses!
After her rescue she was taken to a vet clinic - Charterhouse Vet Clinic in Lima - where it was discovered she had multiple health issues including canine typhus, mange/scabies, a suspected tumor, anemia and otitis. She is currently being treated for her conditions and is boarding at the clinic. Investigations are ongoing into why exactly she cannot walk, why her back legs are paralyzed.
Celeste Lorena Bensa Baylon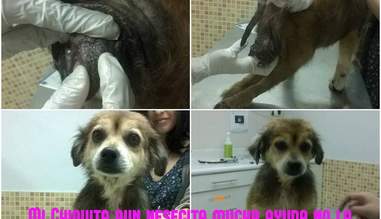 Celeste Lorena Bensa Baylon
Celeste Lorena Bensa Baylon
Celeste Lorena Bensa Baylon
Chiquita is getting the care she needs but her vet bills are starting to pile up, those on the ground have tried fundraising locally but Peru is not North America or Europe and funds are very limited. Chiquita may have a forever home waiting for her in the US, but at this point in time that is uncertain. Perhaps there is a rescue in North America or Europe who could help Chiquita. Peru is not the ideal place for a disabled little dog; try as they do, they do not have the facilities or resources.
Celeste Lorena Bensa Baylon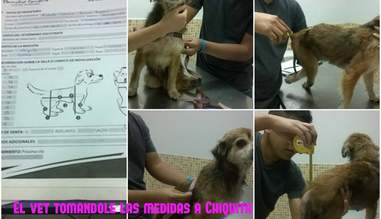 Celeste Lorena Bensa Baylon
The animal welfare activists on the ground in Lima are trying their very best but they are overburdened and overwhelmed, they can only do so much with very limited resources. Chiquita's is one of many cases they are trying to handle simultaneously.
Celeste Lorena Bensa Baylon
Celeste Lorena Bensa Baylon
Chiquita cannot be sent back out onto the streets, her little body and soul couldn't handle that again. Without funds for her vet care, and without a forever home, that could remain a possibility. That would be as good as a death sentence for the poor little girl. She needs time to get better which according to the vet could take a few weeks more and she needs to find her forever home, somewhere where she will be safe, looked after and given all the love she needs. She has known so little of this in her life.
Celeste Lorena Bensa Baylon
Celeste Lorena Bensa Baylon