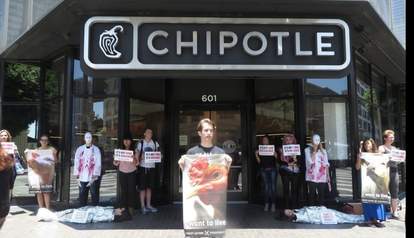 <p>directactioneverywhere.com</p>
Chipotle's recent marketing stunt is so bold-so weirdly bold-I almost want to respect the depth of their gall. Although the company has been under fire for claiming that it serves "food with integrity" when in fact it serves loads of factory farmed meat, it has reacted to the negative publicity by promoting Niman Ranch's pig guy and Chipotle supplier, Paul Willis, as a man whose understanding of porcine welfare comes from "communicating with them telepathically."
No joke here.
Or is it a joke? I honestly don't know. Wayne Hsiung, of Direct Action Everywhere-the organization that has led a brilliant series of protests against Chipotle-wrote the following earlier in the week: "You know a company has gone off the rails when it starts talking about telepathy with its victims. But I suppose when your entire business model is founded on a fraud, there's not much else you can do." Or could it be that the company is owning its fraudulence, internalizing its own lies, throwing residual caution to the wind, and saying "what the f***"? Let's have some fun!" Lord knows their CEOs, who earned $25 million a piece last year, are laughing to the bank.
Joke or no joke, there's something deeply insulting in the telepathy comment. It's in the worst possible taste to claim empathy for animals that you purposely kill in order to make burritos. Does Paul Willis commune with the pigs when they are being shunted into the slaughter chute? I doubt it. Hell, even home slaughterers have the decency to do their handiwork under the guise of ersatz gravitas.
I've spoken to Willis in the past and he does not strike me as the kind of person to say such a thing. Did Chipotle put these words in his mouth? Who knows? Anyway, if there's any good news in this stunt it's that its absurdity suggests desperation. Chipotle is high on its own fumes. But the party will come to an end.
This post originally appeared on james-mcwilliams.com.