A heated battle against birds is underway at a military outpost in China, though the commandos in this case aren't who you might think.
In an attempt to reduce the number of avian strikes on air force planes taking off from what is one of the region's largest bases, the People's Liberation Army has enlisted the help of some unlikely recruits to fight them at the source -- monkeys. According to the PLA's news portal, two macaques have been trained to find and indiscriminately remove the nests of migratory birds that settle in trees around the base.
The military calls the monkeys its "secret weapon."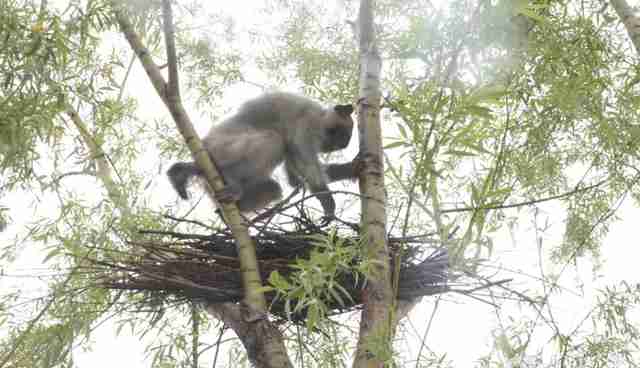 So far, the trained animals are said to be devastatingly effective in their work, capable of tearing down around eight nests per day. In the last month alone, they reportedly destroyed the homes of 180 birds and any eggs they may have contained. The macaques also leave behind a scent that deters the birds from rebuilding there again.
It hasn't been disclosed exactly which type of birds are being driven from their nesting grounds in this sweeping process, though the military notes that the base lies along the East Asian–Australasian Flyway, a migration route travel by dozens of species stretching from the Northern Hemisphere to Australia and New Zealand.
Conservationists would likely take issue with the heavy-handed way the PLA is looking to solve their bird-strike problem, particularly considering that the animals' habitat is already being stretched thin.
"Wetland habitat loss and degradation is a significant threat to migratory waterbirds, and the conservation of important sites across the Flyway is essential to their survival," says Australia's Department of the Environment. "Many pressures are contributing to this degradation, of which population growth and economic development in East and South East Asia are of particular concern."