Momentous Ivory Ban Might Not Be Enough To Save Elephants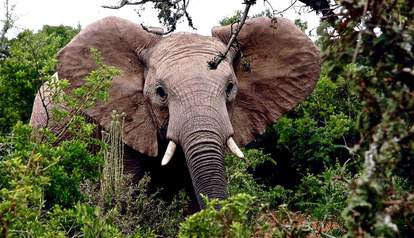 <p>Swallowtail Garden Seeds / <a href="https://www.flickr.com/photos/swallowtailgardenseeds/15829973891" target="_blank">Flickr</a> (Public domain)</p>
China's State Forestry Administration said in a statement posted on its website that it would "temporarily prohibit" trophy imports until Oct. 15, 2016 and "suspend the acceptance of relevant administrative permits."
Chinese media quoted the "relevant SFA official" as saying the temporary suspension was designed to give authorities time to evaluate its effectiveness, and possibly take further, more effective measures in future.
Are they feeling the pressure from the rest of the world? Are they serious about trying to make a difference? What good does a year do?
Tisha Wardlow / Fight for Rhinos
Tisha Wardlow / Fight for Rhinos
Pardon the skepticism, but let's look at China's track record.
"In 2002, China was the principal driver of the illegal trade and made very few seizures," said Tom Milliken, director of eastern and southern African operations for Traffic, which monitors the trade and advises the Convention on International Trade in Endangered Species of Wild Fauna and Flora (CITES).
In 2008, South Africa initiated a one-off sale of stored ivory. This brief sale, though legal, renewed interest and increased demand within the Chinese culture. Ivory prices skyrocketed, but the "legal supply" was exhausted. Immediately following this sale, according to CITES, "record levels of ivory were seized and sustained throughout the period 2009 to 2011."
In January of 2014 and May of 2015 China destroyed ivory in a public crush. Yet China officially sanctions 36 ivory-carving workshops. Every year they assign a quota of 5 to 6 tons of "legal" ivory to the carving industry.
Click here to see one of 36 ivory carving factories in China.
Counterproductive to say the least.
In fact according to the Environmental Investigation Agency, when you talk to the ivory dealers they say that amount of allocation only lasts one month. And so the other 11 months is illegal ivory. In an undercover investigation, the carvers admit "at least 90 percent of the ivory in China is illegal."
To think there will be no compromise to said "prohibition" within the year or that the government won't deem the ban suddenly unnecessary is unrealistic.
But if there is a silver lining it is this: the very fact the government feels compelled to alter a centuries old tradition by this display means they are feeling the world pressure. There is hope.