Chimp Mom Refuses To Leave Side Of Adopted Son Who Died
"The human species is not the only one capable of compassion."
When Thomas died, Noel approached his lifeless body and sat with him for a very long time.
Thomas had been like a son to the female chimpanzee. After Thomas' own mother died four years ago, Noel had adopted Thomas as her own. But now that Thomas was dead, too, Noel was deeply grieving.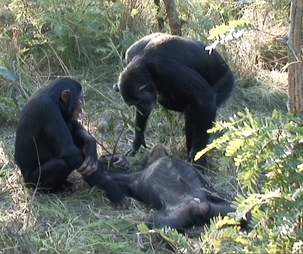 St. Andrews University
With her own adolescent daughter Nina watching, Noel, who lives at the Chimfunshi Wildlife Orphanage in Zambia, selected a hard piece of grass, tucked it inside her mouth and gently opened Thomas' mouth. Then she took the grass and used it to clean Thomas' teeth, almost as if she were preparing his body for a funeral.
This is first time wild chimpanzees have ever been documented using a tool to clean the body of a family member, according to a study published by Scientific Reports.
St. Andrews University
Edwin van Leeuwen, lead scientist of the study, believes that Noel's attention to Noel's body demonstrates her deep affection for her adopted son.
"It indicates once more that the human species is not the only one capable of compassion," van Leeuwen told New Scientist.
The orphanage caregivers actually tried to use food to lure Noel away from Thomas' body, according to van Leeuwen, but even this didn't pull her away from her son.
St. Andrews University
"The fact that she chose to be near Thomas and clean his teeth over receiving abundant and delicious food from the caregivers indicates that she was motivated to stay with him," van Leeuwen told The Dodo.
While it's hard to generalize about chimpanzees' behavior from a single case study, van Leeuwen said, Noel's actions are certainly significant. Not only can it help us understand chimp emotion, behavior and social interactions, but it may also help us figure out the evolutionary origins of human funeral rites.
Of course, chimpanzees aren't the only animals who appear to mourn their dead. Elephants have been known to remain with the dead bodies of their loved ones for hours. Dogs have mourned the loss of their human companions by following funeral processions or lying on graves. Recently, a horse grieved for his dead owner by resting his head on the owner's coffin.
St. Andrews University
While Noel's act of grief is the only scientifically documented case of its kind, it is possible that other chimps have acted in a similar manner, especially with the frequency of chimpanzee deaths in the wild.
While Thomas is thought to have died from a viral and bacterial lung infection, wild chimpanzees regularly die at the hands of poachers. The meat from adult chimps is then sold as a food source, and baby chimps are often sold as pets - both baby chimps and other apes have demonstrated grief over losing their parents.
Chimps are also threatened by habitat destruction and the spread of diseases like ebola, which has led the International Union for the Conservation of Nature (IUCN) to list chimpanzees as an endangered species.
St. Andrews University
While van Leeuwen had to approach the incident scientifically, he said he couldn't help feeling some emotion at the sight of the apparent goodbye.
"It made me feel sad ... because I knew the chimps and their relationship," van Leeuwen said. "The chimpanzees were responding in an extraordinary way."
To help rescue and rehabilitate wild chimpanzees, you can make a donation to Ape Action Africa.