A baby chimp should be wrapped in her mother's arms, not confined to a cage too small for her to stand up straight.
Unfortunately, that's where rescuers from the Centre de Rehabilitation des Primates de Lwiro (Lwiro Primates), a wildlife rehabilitation group in the Democratic Republic of Congo (DRC), found a baby chimp they later named Deo Kalemie.
"She came physically and psychologically very affected," Itsaso Velez del Burgo of Lwiro Primates told The Dodo.
And with good reason. Deo had been taken from her mother by poachers when she was just an infant and locked in the tiny cage, a crude structure made of wood and rope. Illegally captured from the wild, she was likely going to be sold into the wildlife pet trade.
Fortunately, help came just in time. Her captors were arrested and are currently serving 17 years in prison, according to Lwiro.
Deo was admitted to Lwiro, where the rehabilitation team knew she needed special care and time to heal.
"She is a sweet girl, very calm," Velez del Burgo said. "She misses her mum like crazy, and in consequence she is very attached to the keepers. When she sleeps she tries to suck [nurse] as she would do with her mum."
The above photos were taken when Deo first arrived at Lwiro back in December.
After several months of rehabilitation, she's doing much better than before.
"Physically she has recovered already, but she is still traumatized," Velez del Burgo explained. "The recovering process takes longer or shorter depending of the individual, but Deo has improved a lot! And she will continue improving!"
She's even made friends.
That's Pinga on the right, next to Deo. She's another orphaned chimp at Lwiro.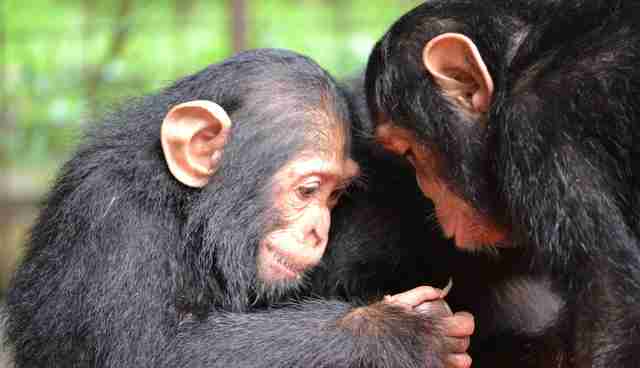 "[Deo] is now with another four babies, also victims of poachers," Velez del Burgo said. Of course, nothing can replace a mother's love for a baby chimpanzee, but having other babies from similar situations is an important part of the healing process. Together, they give each other part of the bond they lost when they were taken from their mothers.
If the rehabilitation program is successful, Deo, Pinga and the other orphans will be able to return to the wild, where they belong. If they're not able to be released, Lwiro will be their home for as long as they need.
And after what they've been through, these chimps deserve all the help they can get. Fortunately, these baby chimps have each other to play with, love and help grow as they prepare for life back in the wild.
If you'd like to learn more about Lwiro Sanctuary, you can read more about its efforts and support the organization here.