A whole bunch of migratory birds are heading back to Wisconsin - and they have over 70 students cheering for their return. Every year 55 different species of birds leave Costa Rica, where they've been hanging out for the winter, and head home to Wisconsin to welcome back the warm weather. This year, they have quite the welcome home party waiting for them.
The Natural Resources Foundation of Wisconsin, Madison Audubon Society and Osa Conservation teamed up with six schools throughout Wisconsin to have second- through fourth-grade students write postcards to migratory birds that have returned to Wisconsin after a long journey. The program is called Wings To Wisconsin.
The results are, of course, absolutely adorable.
To Baltimore oriole, from Savannah:
"Dear Baltimore oriole, welcome to Wisconsin! I will not let my cat come [outside]."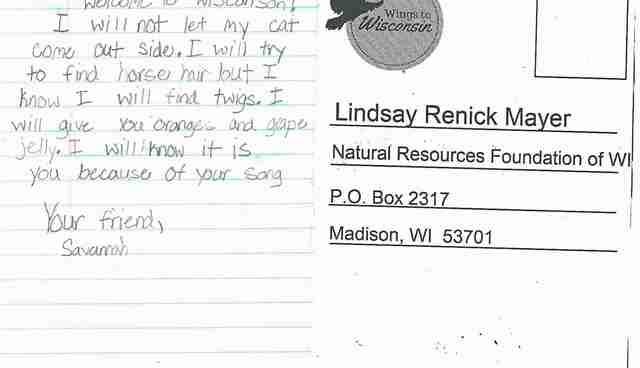 To common nighthawk, from Ineesha:
"Well if you can write me back I'll be so happy that I wish I can give you a hug [nighthawk]."
"We teamed up with Madison Audubon Society and Osa Conservation, which receives funding from the [Natural Resources Foundation of Wisconsin], in search of a way to connect young students to these birds," Lindsay Mayer of the NRF, and one of the individuals heading up the project, told The Dodo. "So the three organizations tossed some ideas around for a campaign and I kept coming back to the idea of migration as a travel adventure. Sending postcards seemed the perfect fit for that theme of travel!"
The project aimed to help connect these students to the birds, and wildlife in general, in a more personal way, rather than just rattling off facts about them. "I chose to have my class participate in the Wings to Wisconsin postcard activity because I wanted to expose my students to the beauty of birds," teacher Cathie Zlevor of Winkler Elementary School said in a press release, "and to help them learn to live in ways that help birds and all wildlife."
To wood thrush, from Casey: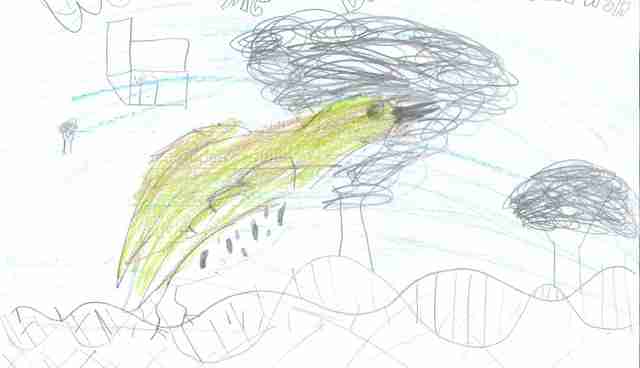 "I hear you like woods well Wisconsin has lots woods its perfect for you it will feel like spa every day." [sic]
To blue-winged teal, from Siri:
"I know you are thinking do I have to go back to North America? Well be glad!"
Mayer also expressed that this project gives her hope for future generations. "As I read through the postcards, it struck me how these elementary school students seem to inherently value wildlife simply because they share the planet," she told The Dodo. "I hope that these kinds of fun activities only strengthen those values, so that these youngsters grow into our next generation of conservationists."
As part of the campaign, the three organizations created an e-book filled with the notes and drawing from the students to these beautiful birds. Check it out to see more sweet messages from these future wildlife protectors!
To gray catbird, from Lucas:
"Your dark gray body with a black cap and black tail feathers is beautiful."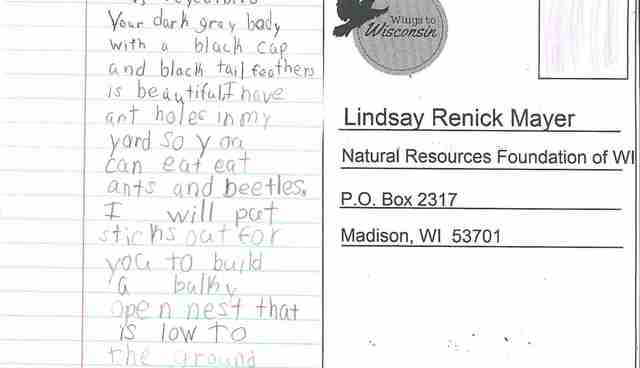 To tree swallow, from Kelly:
"We kept your WI meadow habitat safe and clean for you guys to live good and clean!"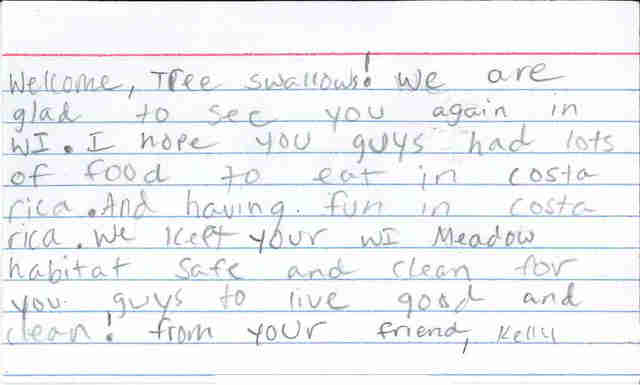 To blue-winged teal, from Maddie:
"Sincerely, [environmentalist-in-training], Maddie"