Taking a scared, helpless being and stuffing her in a bag, carrying her out of her home against her will, throwing her onto multiple vehicles, and dragging her across the country is usually considered a crime. But when it's your pet, it's perfectly legal. Cool, right?

When my wife and I recently decided to move from New Jersey to Los Angeles, we figured the cross-country move would be tough on our eigh-year-old long-haired Chihuahua, Chelsea. For one, Chelsea is New York City-born and raised. We knew she'd hate the car culture of LA: not only does she dislike riding in cars; she wouldn't be able to nibble on stray bagels, half-eaten hot dogs and pizza toppings on the sidewalk once we became Angelenos who drive everywhere.
And then there was the flight, which is just like a dreaded ride except that it's six hours long and 30,000 feet in the air.
But since she didn't explicitly say to us, "I don't want to do this," we made the move. Fortunately for all of us, the trip went well. Virgin America was extremely helpful and nice (shout-out to the Virgin America ticket rep who graciously offered to escort me to the front of the security line so I could take Chelsea outside one last time for her to handle business). And Chelsea relaxed for the whole flight and made it to LA without any drama whatsoever.
Still, on our first full weekend in California, we decided to compensate Chelsea for her troubles with a fun, dog-centered spa weekend getaway (and since it would be another week before our movers arrived with our stuff, we figured going to a nice hotel sure beat sitting on a bare floor without furniture).
We chose the Langham Huntington, Pasadena, a jaw-droppingly gorgeous resort hotel in Pasadena. In addition to being 100 years old, it is pet friendly - really pet friendly (ironically, "Beverly Hills Chihuahua 3" was filmed there).
The hotel also offers a Doggie Program, which allows guests to add some canine touches to their rooms - including a porcelain pet bowl, a plush pink pillow and even a doggie "Do Not Disturb" sign.
(Also included in the package is a one-time room deep-cleaning upon check-out. I'm happy to report that we didn't need it because Chelsea is a good, well-trained dog -and because, out of an abundance of paranoia, we walked her constantly on the beautiful grounds).
The hotel even has a special just-for-dogs room service menu that includes items such as The Bowser Burger, Chow Down Chicken Breast, and Scrappy's Steak n' Eggs.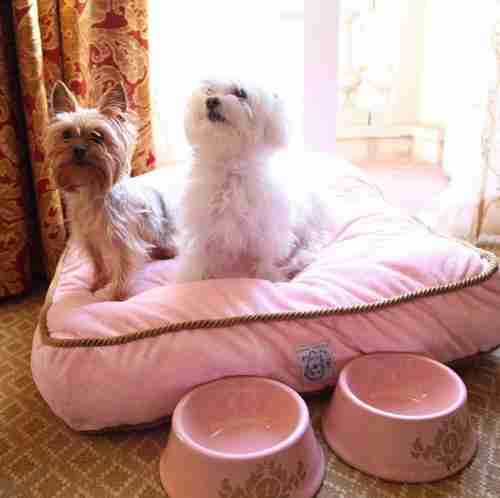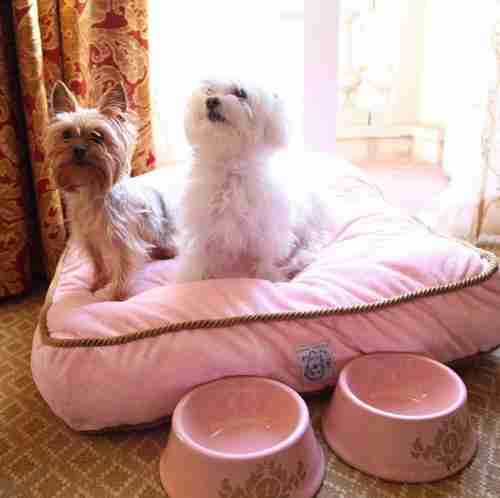 All in all, it seemed like the perfect place to say to Chelsea, "Sorry for the whole taking you away from home thing."

Chelsea loved our room; when we first arrived, she darted around with such enthusiasm that we thought a previous guest had secretly stashed bacon somewhere. Added bonus: after several laps around the room, she'd tired herself out so much she crashed on a chair, allowing us to quietly slip out of the room for a cocktail (our propensity to abandon her to get our drink on is one reason why it's a good reason we're parents do a dog instead of a child).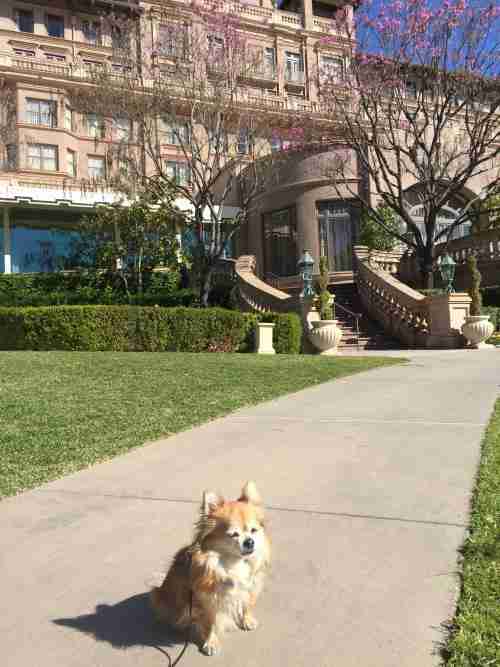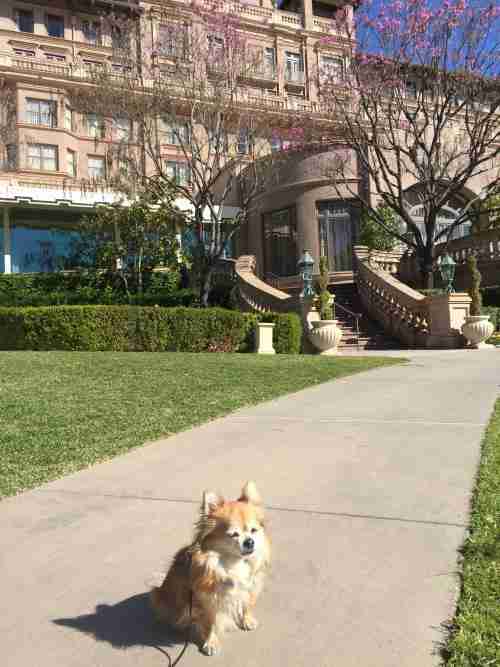 Later, Chelsea was rewarded with the treat of the weekend: a personal pet massage. Hotel guests can book an in-room doggie spa session with a certified canine massage therapist from Bliss Paws. For Chelsea, who loves being petted by amateurs, getting what essentially amounted to professional petting would be a dream come true.

When Bliss Paws owner Susie Wang arrived, Chelsea went through three stages: happiness when she arrived ("Yay! A new friend to play with!"); wariness when Susie set up her massage mat ("Waitaminute ... is she a vet? I'm outta here!"); and happiness again when Susie started the massage ("Oh, this is great!")
"[Dogs] are just like humans," Susie told us, noting that Chelsea - just like her human paw-rents - was also physically tired and stressed from the long move. "You're moving all day, you get stressed out. Dogs get anxieties." She also told us that massage is great for dogs with arthritis.
Chelsea definitely seemed to enjoy it. In fact, none of us could remember ever seeing her so happy when food was not involved.

Yes, we know taking our dog for a spa weekend at a beautiful California hotel makes us look like those crazy people who spoil their dogs rotten. Well, duh! Of course we are. And our weekend at The Langham Huntington was a nice way for Chelsea to cap off the long ordeal of a cross-country trip, and to kick off our stay in California.

I'm glad to say Chelsea's now getting quite used to the California lifestyle. She still doesn't like cars, but she is working on a script for "Beverly Hills Chihuahua 4."