Popular Dog Chew Recalled For Salmonella Contamination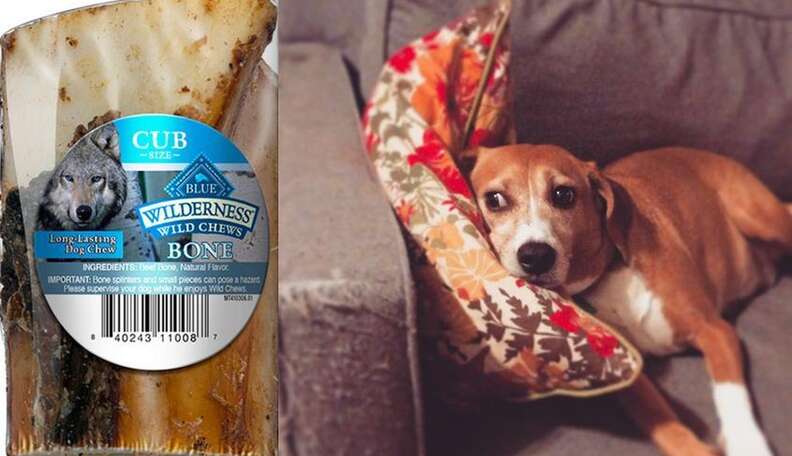 <p>FDA / <a href="https://www.facebook.com/photo.php?fbid=10102211707631986&set=pb.1500803.-2207520000.1448809938.&type=3&theater" target="_blank">Facebook/Morgan Leigh</a></p>
A popular dog treat is being recalled because of Salmonella contamination.
A batch of Blue Buffalo's Cub Size Wilderness Wild Chews Bones - which was distributed to PetSmart Stores in California, Kansas, Michigan, Minnesota, Montana, Nevada, Oregon, Utah, and Washington - tested positive for Salmonella in routine factory tests. This is the second recall of a Blue Buffalo product this month, after a popular cat treat was discovered containing a hazardous chemical.
Salmonella can be a risk to both animals and people. Pets with Salmonella infections may have decreased appetite, fever, abdominal pain, lethargy and diarrhea, according to the FDA's press release on the recall.
People who may have handled the product should monitor themselves for nausea, vomiting, diarrhea, abdominal cramping and fever.
Infected but otherwise healthy pets can also be carriers and infect other animals or humans.
While no one has been reported sick yet because of the contamination, the Blue Buffalo company is exercising an abundance of caution, asking that pet owners check the UPC number (840243110087) printed on a sticker affixed to the product, and the expiration date of November 4, 2017 (printed as "exp 110417") on the packaging.
If the product is a match, you can dispose of the product or return it to the place of purchase for full refund.
For more information on this new recall click here.
Click here to learn more about Salmonella poisoning in dogs.