Ten Scared Babies Found Smuggled At Country's Border
They were all so thin.
Last week, at the border of Somaliland, authorities caught traffickers just in time to save 10 lives.
CCF
Even though the United Arab Emirates (UAE) banned keeping wild animals as pets earlier this year, the illegal market is still functioning: 10 young cheetahs (nine cubs and one adolescent) were discovered in dark crates on their way to the Arabian Peninsula, where an estimated 300 cheetahs are smuggled to be sold each year.
CCF
CCF
CCF
"Because trafficked cubs are taken from their mothers often as young as 3 months old, they are rarely able to return to the wild," a CCF UK spokesperson told The Dodo. "This is because they aren't able to learn the vital skills they need to survive in the wild from their mothers."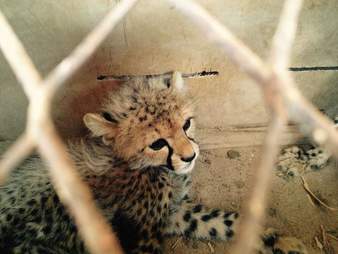 CCF
The cubs are being cared for at an emergency shelter in Somaliland and the location is being kept secret for the cubs' safety. Right now the focus is to give them the medical attention they so sorely need.
CCF
"With a total population of just over 7,000 cheetahs remaining in the wild, the taking of even one cub is a threat to species' survival," Laurie Marker, founder and executive director of CCF, said.
But rescuers are also trying to secure a future for them. It's complicated because current laws don't let confiscated animals, like the 10 cheetahs, be transported across borders. In all likelihood, the cubs will need to be in the care of CCF for quite a long time.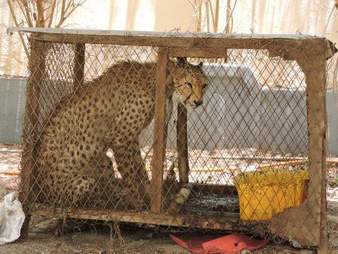 The one larger, adolescent cheetah seized with the nine cubs

| CCF
"Wild cheetah populations are in dire trouble, largely due to demand for cubs as exotic pets," Gail A'Brunzo, wildlife rescue manager at IFAW, said. "The cruelty of live animal trade is shocking and we are doing all we can to save these cubs."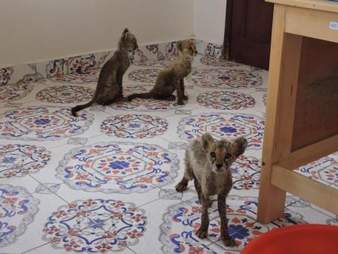 CCF
CCF
For now, CCF is launching a major fundraising campaign to help with the care of the cubs.
"IFAW has provided funding for 6 months of the cubs' emergency care - beyond that we don't yet have funding," the CCF UK spokesperson said. "We need to raise $17,500 to fund their emergency care for the near future. Our hope is for them to go into a sanctuary but we are still thinking short term - their situation at the moment is quite desperate and they will be in our care for the foreseeable future."
CCF
CCF