Elephant Hit By Truck Was So Scared She Wouldn't Let Anyone Touch Her
If the people who previously owned Chanchal had been more diligent, she would never had to endure the pain that befell her on the morning of June 29, 2012.
On that day, in Noida, India, Chanchal, and another elephant, were hit by a speeding truck, according to a blog post by Wildlife SOS. In the aftermath, the driver drove off, leaving one elephant dead and the other hanging onto life. Wildlife SOS received a call tipping the group off to the incident.
"Further written orders were issued to transfer the injured elephant 'Chanchal' immediately to the Wildlife SOS Elephant Rescue Center in Mathura for long-term care and treatment," the blog post reads. "The police arrested the owners of both elephants for negligence."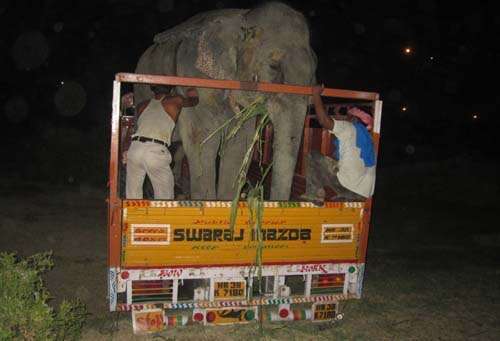 Her rescue was further complicated by a mob that arrived on the scene and attempted to stop Chanchal from being taken away on behalf of her previous owners, who were threatening to harm the elephant further. Thankfully, police officials got involved to handle the mob while Chanchal's rescuers coaxed the frightened elephant onto the truck that would transport her to her new home.
Chanchal was in a terrible state. Open wounds from the accident marked her body - bits of nail from the vehicle and glass were embedded into her injuries. She had major internal injuries in her right hind leg. She was in pain, dehydrated and malnourished. Upon arriving at the Elephant Rescue Center, Chanchal drank a lot of water and eventually began to take in food as well.
WARNING: Graphic image below.
"It took her approximately a year to get over her traumatic past as a begging elephant and get comfortable with her newfound freedom at our Elephant Conservation and Care Center," Wildlife SOS wrote in a recent Facebook post.
"Today, Chanchal is approximately 20 years old and is in excellent condition. She loves long walks with Laxmi and Bijli, her best friends," the post reads.
When Chanchal isn't hanging out with her best friends, she loves spending her time rolling in mud or being doused in water.
"Today she is full of energy ... and enjoying her new friends," Wildlife SOS wrote on Facebook.
"Playful as ever, Chanchal has lived up to her name (Chanchal means 'mischievous') with her daily antics, winning hearts every day," the post reads.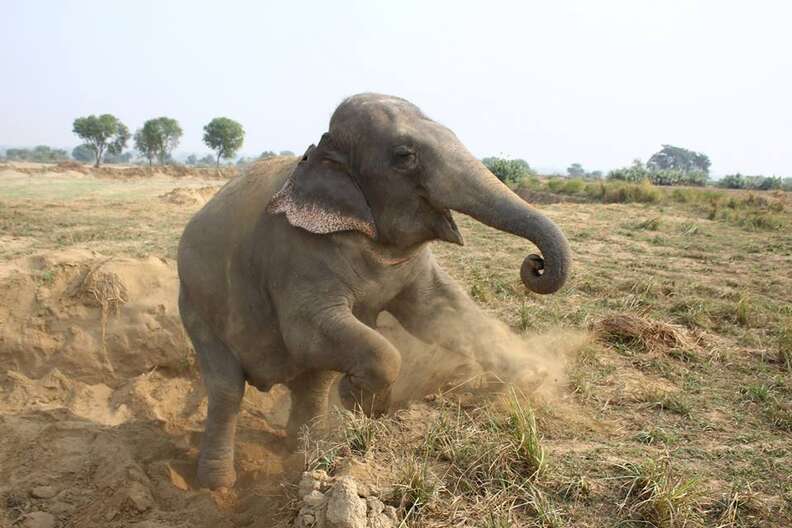 Watch this video of Chanchal and her friends having a bit of fun on one of their daily walks: