The long-tailed macaque used to live inside a small cage, the floor covered in trash, without much to protect him from the elements beyond a dirty blanket partially hung up around the cage to mimic curtains.
As with most animals who become house pets, Warnorn's life started out in tragedy. He was found in March 2011 on an island in southern Thailand when he was just a baby, according to Wildlife Friends Foundation Thailand (WFFT).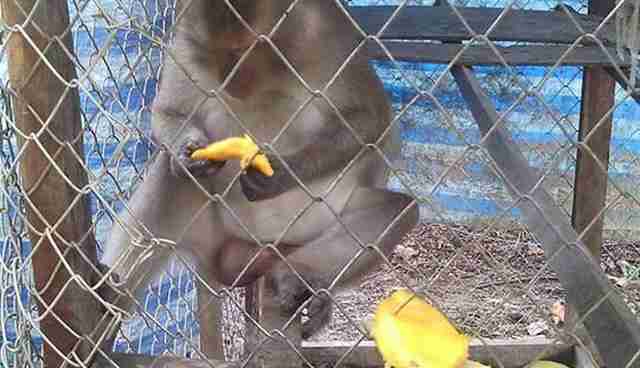 He lost his mother in a horrifying manner - she was killed by a man described as an alcoholic, then eaten. The man then decided to keep Warnorn for himself. Before the infant monkey could potentially suffer a similar end, a local family took Warnorn in instead, effectively saving his life.
Sadly, the family did not have the means to take care of a wild animal properly - and soon felt the effects of such a heavy responsibility.
"As Warnorn grew he became aggressive and needed to be kept locked in a cage, this further reduced his quality of life," WFFT wrote on Facebook. "He recently escaped from his cage, then attacked and injured someone. It is not uncommon for strong, frustrated wild animals to retaliate after years in captivity."
After the attack, the locals of the village gave Warnorn's family an ultimatum: Release the monkey into the woods or kill him.
Either way, death would be certain for Warnorn - as an animal who lost his mother and been made to depend on humans, he'd never learned how to survive in the wild. Warnorn's owners realized as much and got in touch with WFFT to figure out the next best steps for the young macaque.
"Warnorn's owners initially had the right intentions by rescuing him, but wild animals do not make good pets and can become aggressive and dangerous," WFFT wrote.
The family gave Warnorn to WFFT, where he was finally freed from the chain wrapped around his neck, and ready to start life anew. According to WFFT, after an initial quarantine period, Warnorn will be introduced to a macaque troop at WFFT's Wildlife Rescue Centre.
There, Warnorn will finally be among his own kind, with plenty of space to socialize and finally experience a fuller, freer way of living.
"He is adjusting to life at WFFT well," Tom Taylor, assistant director at WFFT, told The Dodo.
"He seems calm and is enjoying trying all the new foods, lots of fresh fruit and vegetables," he said.