How My Growling Pit Bull Became A Therapy Dog
Have you ever thought your dog could never be a certified therapy dog?
I did. In fact, I used to watch longingly at dogs wearing bright bandannas gently comforting those in need. Although I have worked in the animal field for nearly fifteen years, I had no knowledge of how the process worked. Every time someone told me I should get Cuda certified, I politely thanked them and thought inside, "You've got to be kidding me."
It wasn't because Cuda doesn't comfort people. She loves all humans. It wasn't because she's a stranger to crowds. It wasn't even because she has an extremely rare congenital disorder known as short spine syndrome. I was convinced it was an impossible goal because Cuda is dog reactive and can also get stressed out in public.
Cuda is a pit bull originally purchased online for $50. When her original owners handed her over to me I had no idea what to expect, so I decided to make her life matter. I began bringing her to adoption events to raise awareness for pit bull tolerance and poor breeding practices. She was fine for the first couple of years; no nerves, no attitude. Then she started shaking nervously when we would first arrive at events. That usually brought comments of sympathy for her. "She must be in pain," people said. I found myself having to explain that she was not in pain, just nervous. Then she began growling and lunging at other dogs. Mid-sentence, their owners would nervously laugh as they whisked their dogs far away from us. It didn't help my mission when her behavior fueled stereotypes about pit bulls. I realized that eventually we wouldn't be welcome at these events so I had to do something.
I used to believe that only perfect dogs could become therapy dogs.
I met Cydney Cross, co-founder of the rescue group Out of The Pits, Inc. and owner of Crossroads For Dogs, at an event. She told me about her dog, Grace. Grace was about six years old when she was rescued. A pit bull who lived on a chain, she was used for breeding and fighting and landed in a shelter after being seized in a drug raid. Cydney adopted her, nursed her through cancer and heartworm, and got her certified. Now fifteen, Grace is still on the job and delights people. Cydney told me the biggest successes are dogs no one even wanted. She says, "They never really 'fail,' (sometimes they) just need more polishing."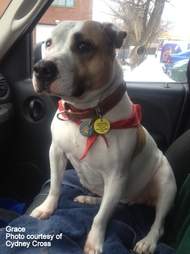 Photo: Cydney Cross
I made the decision to travel an hour each way, once a week to go to class, hoping we wouldn't get booted because she was not perfect.
We took the class at Shawna's Dogs, in Albany, New York. It is a large dog day care with plenty of space for training. Definitely find a classroom that's spacious! We were met with quite a few stares because of Cuda's looks and her snotty behavior. I pathetically stood there with my gargoyle dog that was behaving like a Tasmanian Devil. Cydney assured me she could do this.
I quickly realized there were other dogs in our class who needed more polishing, too. Standing to my left was Farrah, behaving the same way, sans gargoyle body. Up for adoption, she was in class for help with some of the same issues Cuda was facing. Her handler, Alissa, didn't seem as uptight as me so I reminded myself again that Cuda was there just for socialization. Cuda and Farrah quickly became the underdogs and our classmates supported us. Get to know your classmates. It helps your own nerves.
Photo: Alissa Barnett
There were dogs from different backgrounds in my class. Pedigree and rescued dogs stood around me. Ten-year old Elwood, pictured below, became certified shortly after adoption. He literally grew up in a shelter before he was adopted by Jung. The majority of dogs Cydney has certified in her thirty years of teaching are rescues.
Mind blown. Your dog doesn't have to be perfect to take class.
Photo: Cydney Cross
Certified therapy dogs must be tolerant of people of all ages and other animals. They must handle distractions and present well in public. They must tolerate walking on strange surfaces, strange environments, smells and sounds. Cydney says the key to a dog's success is the relationship between handler and dog. It must be one of trust and positive interaction. Mind blown again. I had to learn, too.
Although I was familiar with positive, rewards-based training and I worked in the animal field, I had had little faith in it. I didn't understand how giving my dog a treat for growling and lunging would make her stop doing it. My reaction was to pull back on the leash and yell. I learned I was reinforcing that behavior. Positive, rewards-based training actually allows dogs to make a choice between getting a treat and praise for desired behavior. It's all about the timing and the way you offer the reward. Eventually, praise can be used instead of treats. That's crucial because treats are not allowed to be used in the test. Choose an instructor who practices this type of training.
I was still doubtful when test day arrived. I had convinced myself Cuda was in class just to get comfortable around other dogs.
The test is broken into a series of tasks simulated to the typical places therapy dogs go. Tasks include ignoring food on the floor, being approached by loudly speaking people, people in wheelchairs, people in floppy hats, a group of children screaming as they run by and real life distractions. Task by task, flanked by my classmates and their dogs, we completed the test.
I was so focused on the test that I didn't realize Cuda passed it.
Photo: Cuda Cares
I began this journey with the only expectation that Cuda would learn how to behave in public.
It never occurred to me that I needed to learn how to work with Cuda's natural behavior instead of against it.
On occasion she still chooses chaos over reward, but it happens. I remember what I learned in class and practice it. Practice is important and never ends because your dog doesn't have to be perfect and neither do you.
Photo: Alissa Barnett
Cydney and I visiting a secure facility for girls in upstate New York. Photo: Julie LeRoy
Photo: Julie LeRoy