Here's How To End Taiji's Brutal Hunt For Good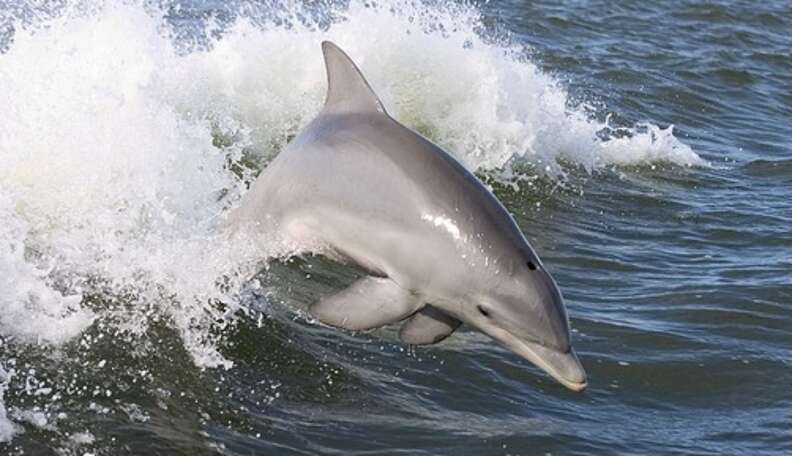 The brutal dolphin roundups and slaughter in Taiji, Japan, have earned fierce international backlash -- but that doesn't mean they're over. In fact, not only are there other dolphin hunts occurring around the world right now, but the hunt in Taiji is planned to begin September 1 (it first began in 1969). In honor of National Dolphin Day, it's time to revisit everything we can do to end these horrific hunts.
But there are several ways you can impact the hunt, and join the people who oppose it.
Mark Palmer, associate director of the International Marine Mammal Project says the easiest way to support dolphins is to boycott dolphin shows and swim-with-dolphins programs because they fuel demand for the dolphins caught in the hunts.
Next, you can write a letter to Japan's Prime Minister Shinzo Abe asking him to stop the hunts.
"We think this is a good time to ask Abe to reconsider all whaling and dolphin killing and consider changing Japan's direction into one of supporting protection of cetaceans and restoring their tarnished record as international scofflaws," added Palmer, whose organization is spearheading the letter-writing campaign.
Direct letters to:
Prime Minister Shinzo- Abe Cabinet Office, Government of Japan 1-6-1 Nagata-cho Chiyoda-ku, Tokyo. 100-8914 JAPAN +81-3-5253-2111 You can also write letters of opposition to authorities in Taiji as well as the Japanese Embassy in your country, the U.S. Embassy to Japan, U.S. and Japanese Ambassadors to the UN and the U.S. Senate members of the Committee on Foreign Relations, among others -- all of their contact information is on this page.
A new strategy to end the dolphin hunt has emerged -- activists are putting pressure on the World Association of Zoos and Aquariums(WAZA), which oversees the Japan Association of Zoos and Aquariums (JAZA). Recently, Campaign Director at the Dolphin Project Ric O'Barry and Sakae Hemmi of Japan's Elsa Nature Conservancy met with Gerald Dick, Executive Director WAZA in Switzerland. The goal is to get WAZA and JAZA to drop support for aquariums and marine parks that buy dolphins captured in Taiji's drive hunts, like the Taiji Whale Museum, which houses the albino baby dolphin caught last year.
"We would like to see JAZA stop subsidizing the dolphin slaughter -- the Taiji Whale Museum is a member in good standing of JAZA," added Palmer. WAZA's contact information is listed here, while JAZA's is listed here.
You can also start protesting next year's hunt. On Sept. 1, hundreds of animal advocates gather to celebrate Save Japan Dolphins Day. Says O'Barry of the Dolphin Project:
We have protests at the Japanese embassies and consulate around the world. It's a way to bring attention to the start of the dolphin killing season in Taiji. More than 60 international cities participate. My team and I show up at the cove on that day.
If you want to donate to a cause helping to end Taiji's dolphin slaughter, the Dolphin Project, Sea Shepherd and the International Marine Mammal Project are all working towards preventing next year's hunts.
Sign the petition below and join The Dodo in demanding that Prime Minister Shinzo Abe take the appropriate steps to ban this practice immediately. The best way to celebrate National Dolphin Day is by ending the mass slaughter and capture of dolphins.
[rebelmouse-campaign #TaijiNeverAgain target=1000 increment=500 twitter_share_message="Join me in support of #TaijiNeverAgain:" call="**Sign this petition** or share on Facebook, Twitter and Instagram with **#TaijiNeverAgain**" theme=taiji]