Cecil The Lion's Grandkids Spotted On Sweetest Family Outing
Cecil would have been a grandfather today.
A video posted on YouTube Wednesday appears to capture a troop of tiny cubs being led down a path by lionesses in Zimbabwe's Hwange National Park.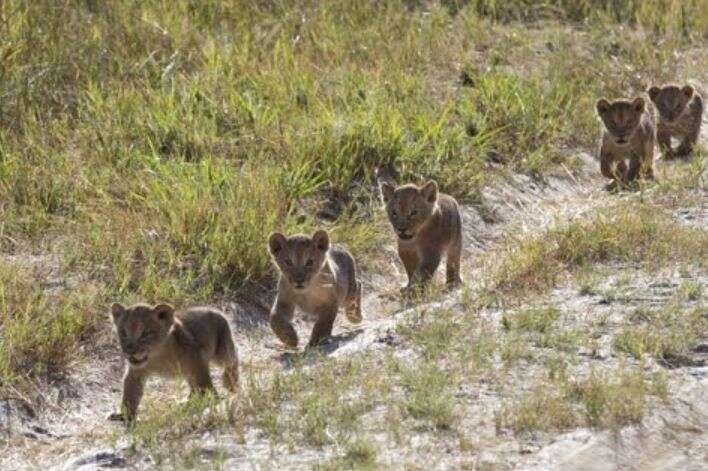 In all, eight cubs are seen in various states of furry frolic - from tumbling in and out of the tall grasses to scampering after a protective mother.
While a free-ranging lion's family tree is famously complicated, it's likely these babies share a bloodline with the famed lion.
Wildlife photographer Graham Simmonds describes the encounter in Africa Geographic:
"Buli, our guide, informed us that the two lionesses had been seen mating with a male named Xanda some months back. Xanda is one of Cecil the lion's sons that has recently come into his prime, and the cubs seen here are thought to be the 'grandcubs' of the legendary Cecil."
Warning: Disturbing images below
It's a shame Cecil isn't around to watch them grow up. The lion, a beloved icon at Hwange National Park, was killed by American dentist Walter Palmer last July - a hunting trophy he paid $55,000 to acquire.
But the death of Cecil, a tourist favorite described as "the ultimate lion," sparked worldwide indignation.
"Dr. Walter Palmer has done something worthwhile after all," Paul Watson, founder of the Sea Shepherd Conservation Society, wrote in a Facebook post. "His special combination of vanity, smugness, greed, arrogance and stupidity has taken something which happens all the time, usually out of sight and out of mind, and has elevated it to international recognition."
But today, Cecil's legacy is more than wide-eyed horror at what some humans do for "fun."
It's wide-eyed adoration of a couple of tiny cubs tumbling down a path.
Watch the full video below: