Man Crawls Into Tiny Cave To Save 9 Puppies Who Were Hiding There
"Every time a train went by you could feel the whole ground shaking. It was a pretty scary experience."
Eldad Hagar, founder of Hope for Paws, spends most of his time finding and rescuing homeless dogs. The dogs he is tasked with helping are not always easy to rescue, but he always finds a way to make it work - even when a rescue seems nearly impossible.
Hagar and his fellow rescuers found out about three female homeless dogs and made attempts to rescue them, but the dogs have been on their own for so long and are so terrified of people that it's impossible for anyone to get anywhere near them. Two women who work nearby have been feeding them for two years now, and keep Hagar updated on how the dogs are doing while he comes up with new plans to try and save them.
"If you make any move towards them, they run across the railroad tracks and disappear," Hagar told The Dodo.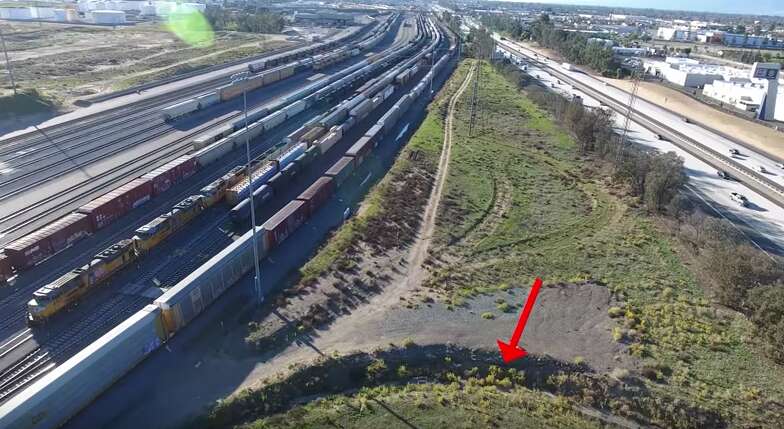 But Hagar and his fellow rescuers got a surprising call from the women who feed them - one of the dogs had given birth to several puppies, who were now hiding in a small cave.
Because the puppies kept popping in and out of their cave, it was hard to determine exactly how many there actually were. The women sat with them for six hours, watching them come in and out, and finally determined there were eight puppies. Hopeful that this rescue would be more successful than the rescue of their mom and aunties, Hagar and his team headed to the cave to try and rescue the 6-week-old pups.
When they arrived at the cave, the rescuers tried to use bits of cheeseburger to coax the puppies out of hiding. When a few of them finally came out, Hagar noticed their brindle coloring, which was strange considering all three of the homeless dogs were tan-colored - and realized that the puppies' father was a homeless dog named Tank whom he'd rescued from the same area a few months before.
The puppies were anxious to be fed but were also very cautious, as they'd had very little human interaction during their short lives ...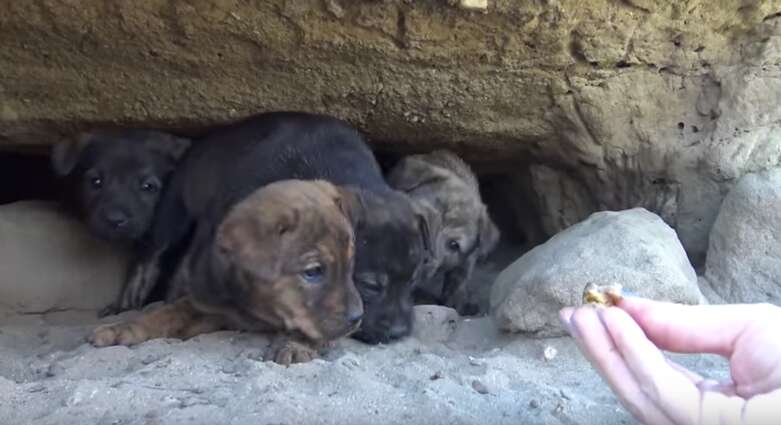 ... and as soon as Hagar grabbed the first puppy, the rest of them got scared and retreated back into their cave.
The entrance to the cave was incredibly tiny, but Hagar wasn't about to give up without a fight. He dug himself some space and then slid into the tight, dark entrance, hoping the puppies weren't too far in for him to grab.
Once he'd crawled in as far as he could go, Hagar saw three puppies huddled together at the back of the cave. Slowly and carefully, he was able to pull each one out, grabbing each one and taking them back outside separately before going back in for the next one, as there was very little room to pass through the entrance of the cave.
The puppies were so scared as they were grabbed by human hands for the first time, and cried and cried, until they were pet and held long enough to realize that they were safe.
"They don't understand what we're doing there, for all they know we're predators trying to hurt them," Hagar said.
Once those three had been secured, Hagar went back in to try and find the rest - only to discover that they were much too deep for him to reach.
"I crawled in 6 feet and then there's a left turn that leads to a larger chamber," Hagar said. "I was able to get three but then the rest were in that chamber and they were so deep. Because the turn was so sharp I couldn't get any equipment back there."
Still determined not to leave anyone behind, Hagar found a shovel - and then he began to dig.
"It took hours and hours because we had to go slow and try not to shake the earth," Hagar said. "At the end of the rescue I was almost deaf in one ear from all the dirt falling into it. Every time a train went by you could feel the whole ground shaking. It was a pretty scary experience."
Finally, Hagar had dug into the cave all he could, and it was time to try and go in and get the other four puppies.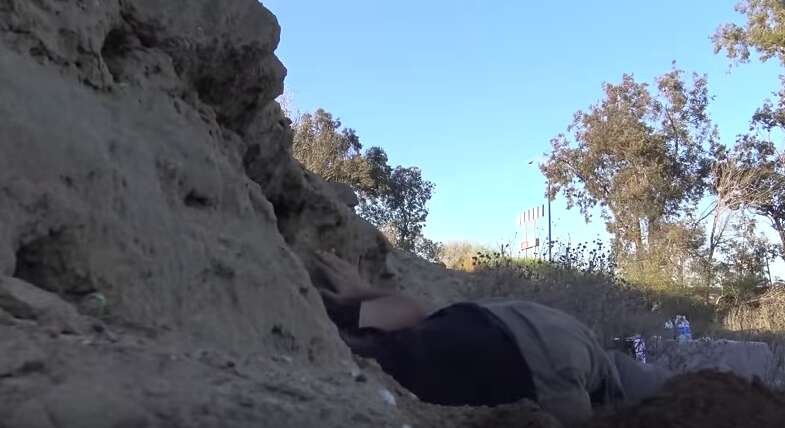 "I had very, very little space but I was able to crawl in; I couldn't even raise my head," Hagar said. "I just had to feel around and grab for body parts, and once I had a tail, then I had the other rescuers pull me out by my legs with the dog."
The process was long and difficult, involving a lot of blind grabbing and tiny puppy screams ...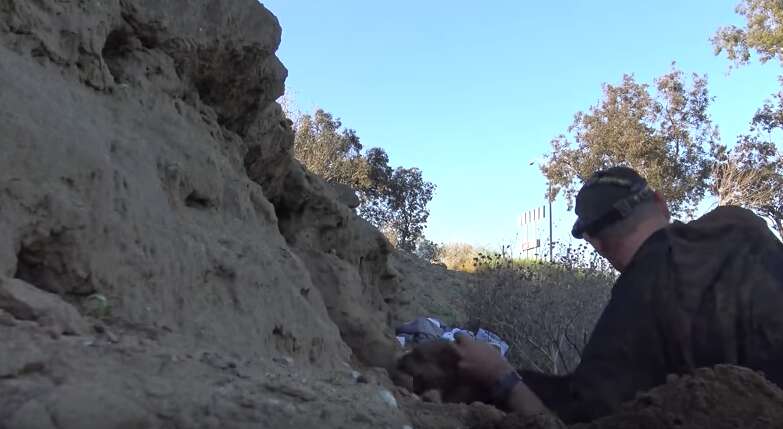 ... but one by one, the group of rescuers was able to pull each puppy out of the tiny, cramped cave ...
... until all eight were safely out in the daylight and in the arms of people who would love them.
Even though the women had assured Hagar that there were only eight puppies, he went back into the cave and listened very carefully, just in case ...
... and to his shock, he heard the faintest whimpering coming from deep inside the cave.
After a little more crawling and searching, Hagar finally found the ninth puppy, the tiny runt of the litter, who had probably never left the cave because he was so scared and small, which is why the women didn't know he existed.
Overall, the rescue took about seven and a half hours. The puppies were cleaned up, checked out, and split up into two different foster homes, where they're now thriving, much to everyone's shock and delight.
"The puppies are doing amazing, it's ridiculous," Hagar said. "They're just so happy, they're the happiest dogs in the world. They're also the quietest pack of puppies, as if their mom had tried to tell them, 'Be quiet, there are coyotes around here,' back when they lived in the cave. They're very stealthy."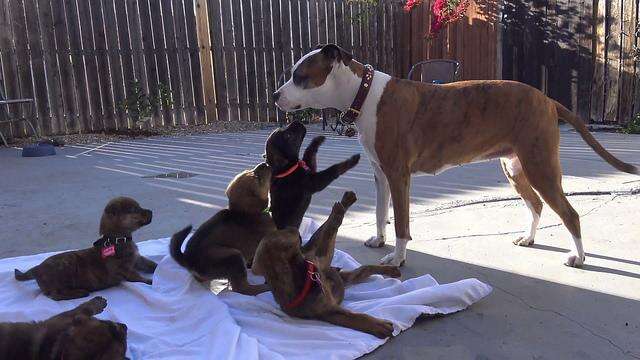 Now that the puppies and their dad Tank have all been safely rescued, Hagar and his team are going to focus their efforts on trying to rescue the mom and auntie dogs once and for all. They've come up with a new, long-term plan that they're hoping will be successful, and hopefully within the next two months, the entire family will be safe and sound in loving forever homes.