Naughty Kitty Sneaks Into Pet Store, Has Full-Blown Catnip Freakout
Trashing a pet store isn't normal. But on catnip it is.
One cat recently demonstrated the dangers of feline-altering substances when she entered a pet store unattended, made a beeline for the catnip toys, and proceded to totally lose her shit.
According to YouTube user SensualCat, who uploaded footage of the drug-fueled frenzy, the cat wandered into the store "by accident."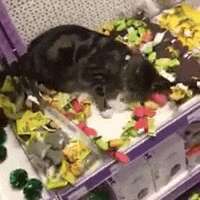 Luckily, the cat's retail rampage was relatively short-lived: SensualCat says her owner soon came by and picked her up.
Whether she ever came back down, however, is a mystery.
Watch the cat's complete catnip bender below: