Man Hears Huge Crash — Then Finds A Fish In His Pool
"Who would expect a fish? I would expect maybe anything but a fish."
Leonard Vanderpool was there, and even he can hardly believe what happened.
YouTube/WFLA News Channel 8
On Monday, Vanderpool was watching TV with his wife in their Polk County, Florida, home when, quite alarmingly, they heard a "huge crash" behind the house. Naturally, he ran out back to investigate, having no idea at the time what might be awaiting him.
Sure enough, Vanderpool found an overhead panel on the couple's screened-in pool area had been torn — and inside the pool itself was a large catfish who was still very much alive.
Vanderpool was stunned: "Who would expect a fish?" he told WFLA News Channel 8. "I would expect maybe anything but a fish."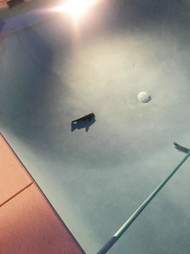 Winter Haven Police Department
Unsure of what to do about the mysterious animal now swimming laps in his pool, Vanderpool called the police. The officer who came to help couldn't believe what happened either, but together they were able to get the fish safely out of the pool and into a bucket.
That's when they noticed some talon marks on the fish's back. The police have since concluded that a large bird must have been flying overhead with the fish and dropped her — miraculously enough, back into another body of water.
The officer then transported the lucky fish to a nearby lake and released her.
WFLA News Channel 8 recently caught up with the Vanderpools to learn more about this remarkable story: