Catering Giant CEO Slammed For Abusing Doberman Puppy On Tape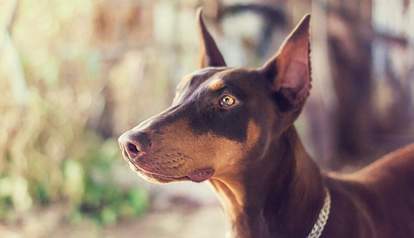 A surveillance video taken from the elevator of a Vancouver hotel revealed footage of the CEO of catering giant Centerplate abusing a puppy belonging to a friend last week. The disturbing footage shows CEO Des Hague kicking and yanking Doberman on its leash before exiting the elevator.
The video blew up on the internet, and many have expressed disgust with Hague, whose $6 million Connecticut company does business with over 350 large clients, including several NFL stadiums. While at first, Centerplate called the incident a "personal matter involving Des Hague," and refused to comment, public backlash has forced the company to release another statement:
The company finds Mr. Hague's personal behavior unacceptable and outside the bounds of our high standards and expectations of all of our staff. We do not condone nor can we overlook the mistreatment of animals and Mr. Hague's personal misconduct.
Centerplate has directed Hague to serve 1,000 hours of community service and donate $100,000 towards the establishment of the Sade Foundation in honor of the dog he mistreated. He also issued an apology:
"I take full responsibility for my actions. This incident is completely and utterly out of character and I am ashamed and deeply embarrassed."
While Hague's apology is a step in the right direction, it isn't enough, say animal advocates. A Change.org petition calling for his termination from the company has already gained over 35,000 signatures.
"No one is above the law, especially when it comes to the abuse of a being that is vulnerable and defenseless," Kristin Simon of PETA's Cruelty Investigations Department told The Dodo. "Anybody who abuses animals has problems - and people who abuse animals rarely do it once." Hague is currently being investigated by Canadian officials on charges of animal abuse. If convicted, he could face up to $75,000 in fines and two years in jail.
Simon's right - several studies have shown that not only are animal abusers likely to be repeat offenders, but that people who abuse animals are five times more likely to commit violent crimes against humans.
Ewa Demianowicz, campaign manager of companion animals for Humane Society International's Canada branch, told The Dodo that though Canada's animal abuse laws are currently weak, officials should uphold the law where they can in this case.
"Laws are there for something - they have to be applied," she said. "If we create law to prevent animal abuse, we have to apply it. It shows that animal cruelty is not tolerated in this country."
The video below contains disturbing footage: