Cat With Heart On Her Chest Has Spent Her Whole Life In The Shelter
Muffy doesn't exactly wear her heart on her sleeve. She's a cat, so she doesn't wear shirts.
But the black and white kitty does have an incredible heart-shaped marking right on her chest.
We bet it's going to make you fall head over heels in love. Which is fantastic, because Muffy is in the market for a very special someone to call her own.
January Dugan
Muffy is about 2 years old and sweet, but has a reticent personality. She's spent nearly all of her young life thus far in the Converse Animal Shelter, a no-kill shelter just outside San Antonio, Texas.
Kennel manager Leah Carlisle tells The Dodo that Muffy first arrived in May 2014 - she was brought in by a local resident who'd found her and two kitten siblings in his yard.
The two others were less striking looking, but more outgoing, and quickly got adopted.
Muffy, however, tends to hide in her cage. Because of that, she has been overlooked.
"She's very timid," says Carlisle. "She's very shy."
January Dugan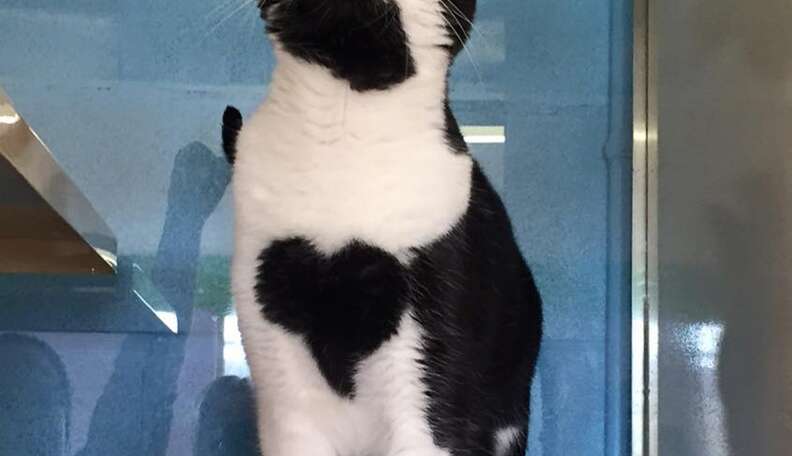 Muffy could stay put for her whole life. She's safe at the shelter, and spoiled.
Carlisle says there are some resident cats who've been there for 13 years, even. One likes to hang out at the front desk, and sticks his paw out to smack passers-by until they pet him.
Staff may get attached to the long-timers, too. But they still hope that Muffy and the others will be noticed and picked. That's what's good for the animals, and good for everyone's hearts.
"Of course I hope she finds a home," says Carlisle. "We hope that every single one of the animals here can find a loving home."
January Dugan