Senior Cat Who Lost His Ears Has A Mom Who Thinks He's Perfect
"He is by far the best thing that ever happened to me."
Otitis lived most of his life with the same family, as a typical house cat, until he developed cysts in his ears. The cysts caused poor Otitis a great deal of pain, and his family was unable to afford the surgery to have his ears removed - and so they made the painful decision to give him up.
They surrendered Otitis to the Feline Rescue Association of Baltimore, where staffers were able to raise enough money for his surgery. While he waited to have his ears removed, and afterwards while he was recovering, Otitis spent time with a foster family, who were amazed at what a different cat he became once he was no longer suffering.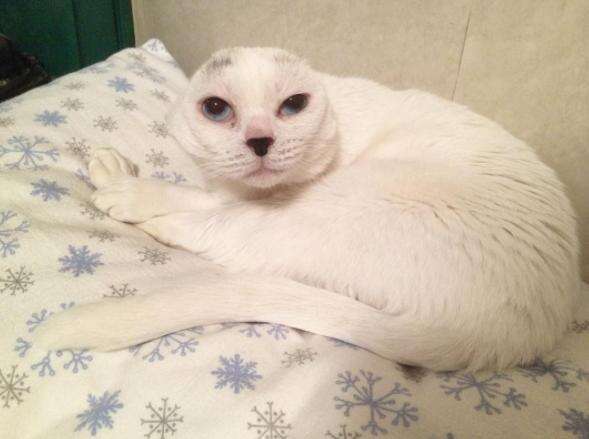 "His foster family told me that he was in so much pain with his cysts that he never played and moved as minimally as possible," Molly Lichtenwalner, Otitis's new mom, told The Dodo. "Now he's constantly running around and playing and loving life, so much happier without his ears."
Lichtenwalner always knew that when she finally adopted a pet of her own, he or she would be an animal who needed a little extra love and attention. She grew up with a deaf sheepdog, and thus knew exactly how wonderful having a special needs pet can be.
"When I came across Otitis, I knew he was the perfect cat for me," Lichtenwalner said. "He was an older, special needs cat that I knew needed the home and love that I absolutely knew I could give him. I found out later that many people asked about him, but no one ever put in an application for him - I was the first."
Due to his ear removal, Otitis is now deaf, but that hasn't slowed him down at all. The 10-year-old cat is still as loving and playful as ever, especially now that he's happy and pain-free in his new home.
"He has a very sassy but loving attitude," Lichtenwalner said. "He loves to play, but also loves to just snuggle up in bed and lay on your chest and purr all night long. He just absolutely adores people."
With his white fur and lack of ears, Otitis looks a little bit like a seal ...
... which just makes his mom love him even more.
Otitis's lack of ears isn't the only thing that makes him unique. Because of everything he's been through, Otitis is an extremely empathetic cat, and can always sense when his mom is sad or struggling through something.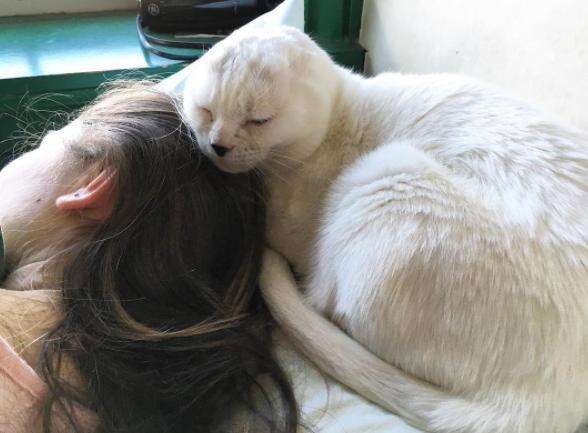 "One night, I woke up from a nightmare and Otitis was sleeping on my pillow," Lichtenwalner said. "My heart was beating very fast and Otitis could tell I wasn't myself. He crawled off the pillow and onto my chest and slept there until my heartbeat went back to normal, then went back to his pillow. He's so perceptive to my feelings, it's incredible."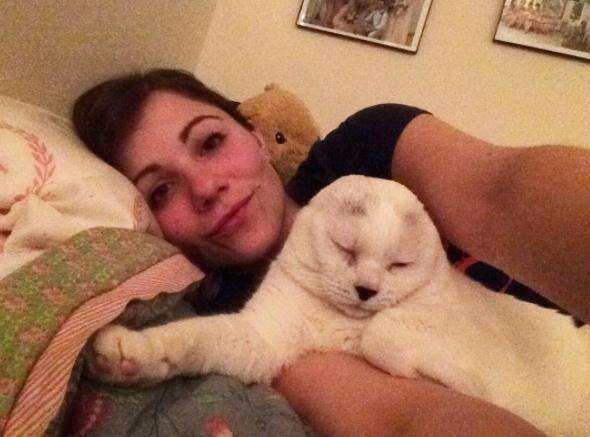 Otitis loves to be by his mom's side to comfort her, and is always there to help her through anything - the same way she helped him by giving him a second chance.
"He is by far the best thing that ever happened to me," Lichtenwalner said.