Boy Decides It's Time For His Cat And The Neighbor's Cat To Get Married
"There will be tuna cake."
Last week, Ashley Shields found an unusual note in her mailbox - a wedding invitation. As it turned out, her own cat, Pedro, was set to marry Silver, a cat who belonged to her 11-year-old neighbor, Brady.
To 33-year-old Shields, this was a complete surprise.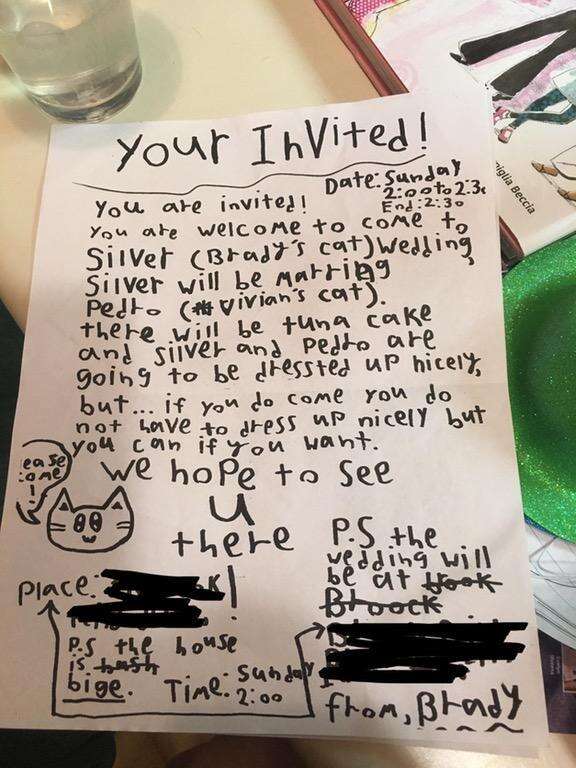 "You are invited!" the invitation said. "Silver will be marrying Pedro. There will be tuna cake and silver and Pedro [is] going to be dressed up nicely. But if you do come, you do not have to dress up nicely, but you can if you want."
Apparently, the romance between Silver and Pedro had been going on for years. The two cats frequently canoodled together while outside, according to Carley Johnson, Shields' good friend. And Brady had noticed.
"He'd seen them hang out a lot, and he was like, 'I'm not really sure what they're doing, but I felt that since they hang out so much, it was probably time they get married,'" Johnson said.
Johnson had her own take on the whole thing. "Pedro is probably just tired of the game and ready to settle down," she said.
To help the felines get ready for the big day, everyone pitched in. Shields and her four daughters set up their dining room for a ceremony; a friend made a bowtie for Pedro and a veil for Silver; Johnson baked cakes.
Like a typical bride, Silver seemed to lavish the attention. "Silver seemed kind of excited to be all dressed up and fancy," Johnson said.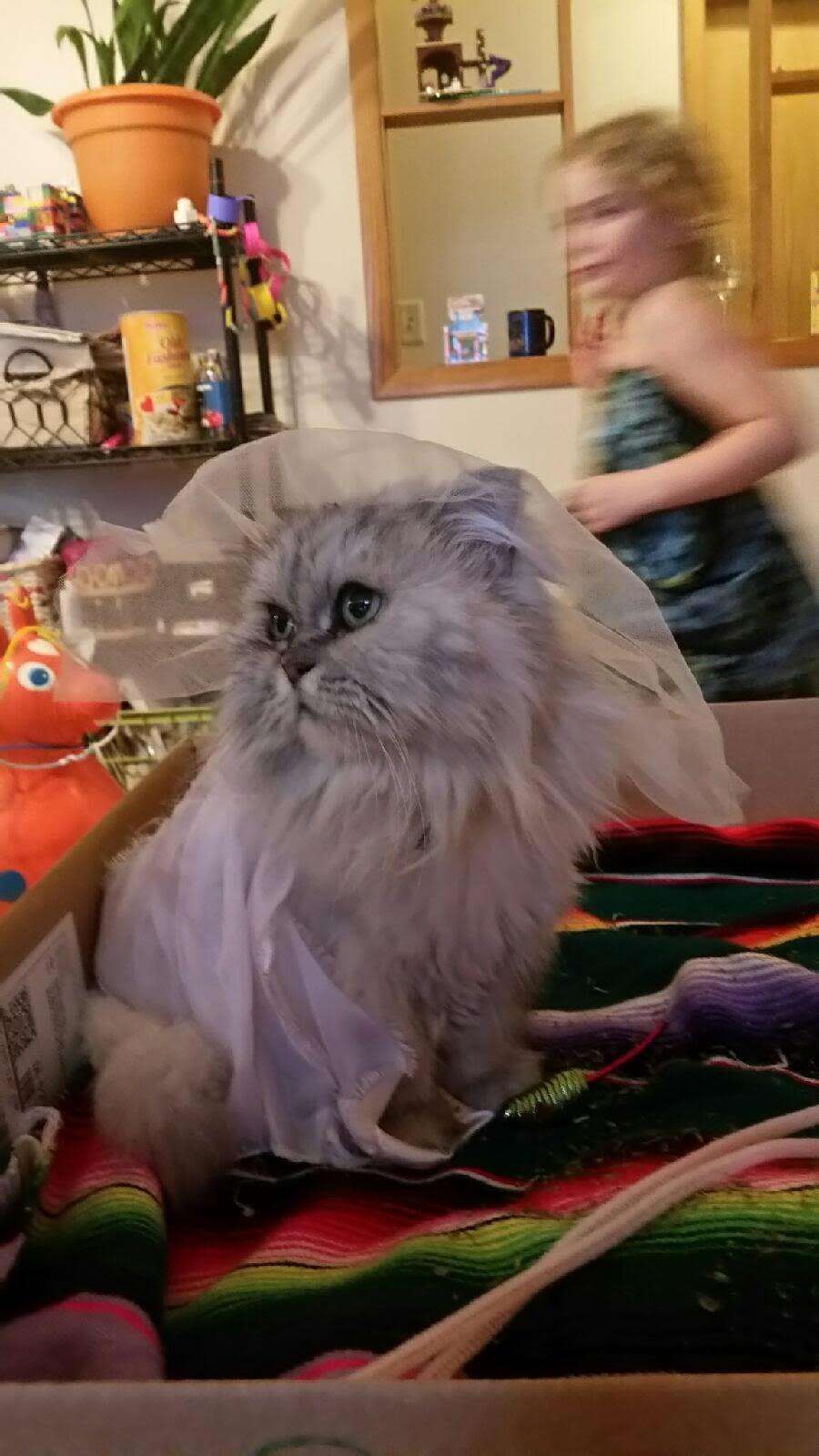 Pedro, however, was a different story.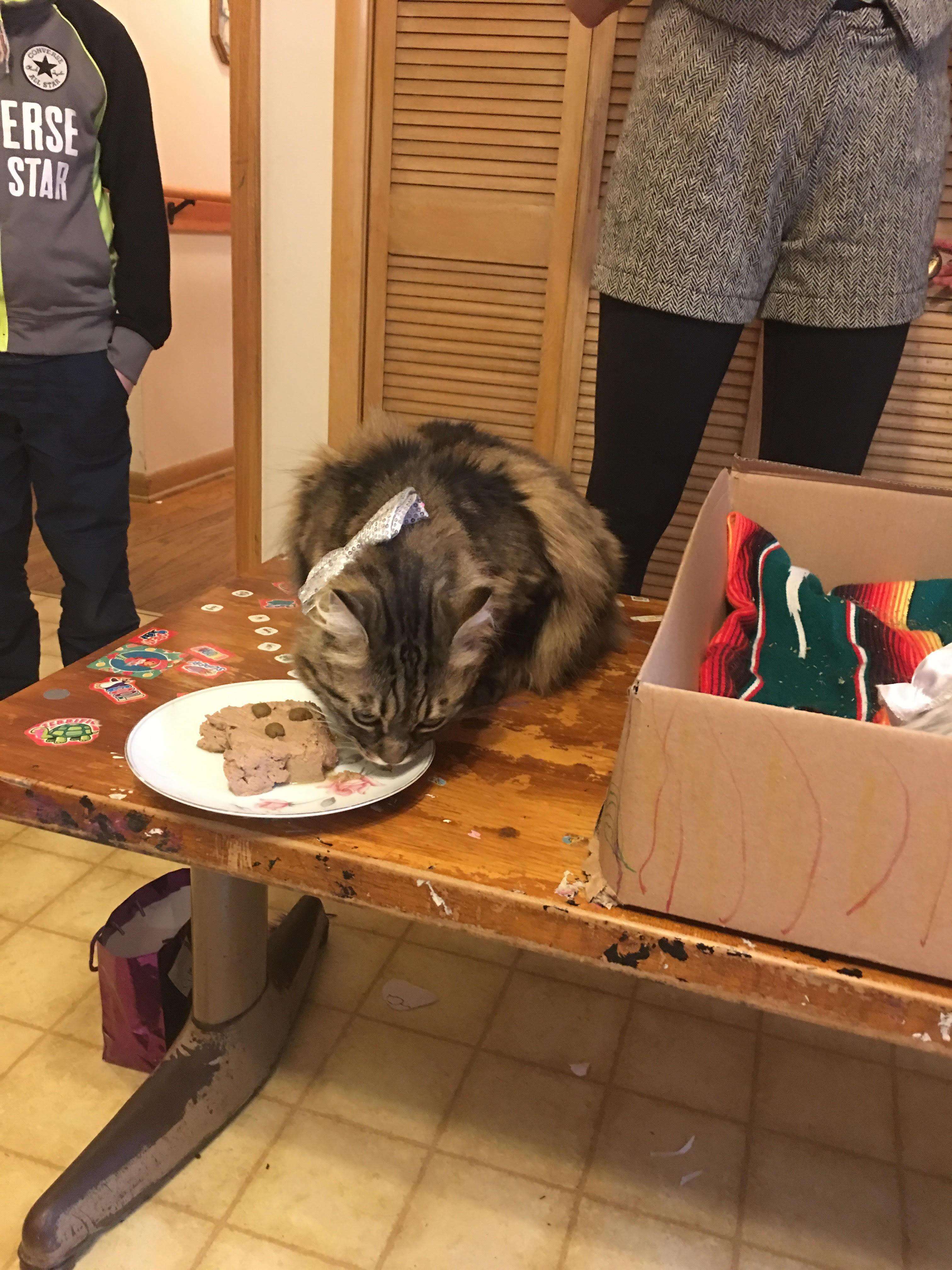 "He got cold feet in the beginning, and we had to kind of to give them their tuna cakes early so they would stay in place for the vows and the ceremony was officiated," Johnson said.
Shields is legally authorized to officiate weddings in the state of Iowa, so she was the perfect choice to preside over the wedding, Johnson said.
"She gave a description of how the cats met, and talked about how the cats feel about each other, and then she did the 'me-vows' she had written for both Pedro and Silver," Johnson said.
After the ceremony, the guests drank champagne and ate cake while the bride and groom milled around.
"It was pretty much your typical reception," Johnson said.
Now that the wedding's over, the cats have a marriage to work on. But whatever happens, Johnson thinks that Pedro and Silver have a bright future ahead of them.
"Whether or not they stay married, they do seem rather crazy for each other considering the time they spend together," Johnson said. "I think cat friendship lasts forever."