Cat Found Covered In Ice Warms Up In Train Worker's Arms
"There's no way I could leave him. We were bringing him on the train."
It was an icy cold morning and the sun had yet to rise when Brad Slater, flashlight in hand, began the train inspection.
The locomotive had stopped in Wainwright, Alberta, on Sunday morning. And Slater, a conductor at the Canadian National Railway, shivered in the minus-40-degree blight, as he weaved between the tracks.
The sound coming from beneath one of the frozen engines was the kind no one ever wanted to hear: a sad, pained cry.
At first, Slater thought the train had hit someone. But when he raised his flashlight to one of the train's frozen engines, he caught a glimpse of fur.
It was a cat.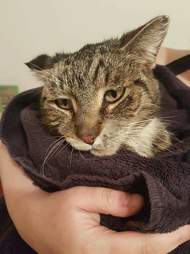 Brad Slater
"He was sitting right there underneath the engine, above the wheels, frozen in ice," Slater tells The Dodo. "I immediately called my engineer and he came down, thinking the worst - that I had found something else."
"There's no way I could leave him. We were bringing him on the train."
Slater thought the cat, who was covered in ice, would be too frightened and even too injured to move on his own.
After all, the train had been sitting there for at least 20 minutes. He had every opportunity to jump down and escape when the train eventually stopped. But, Slater would later suspect that the cat had hitched a ride for hundreds of miles. And didn't leave.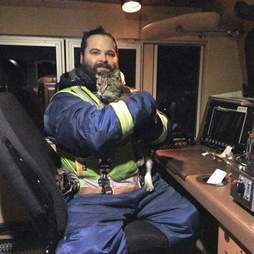 Brad Slater
"I thought I would have to get a broom and kind of scare him out," Slater explains. "I knelt down and said, 'Come here buddy,' and he jumped down, walked through the wheels and jumped into my arms."
Brad Slater
Once on board, the cat, who was named Q199 after the train itself, was ravenous, tearing into beef jerky and slurping endless water.
"He's the ugliest, sorriest looking cat ever right now," Slater says. "But he's a warrior."
And his appetite for human warmth was even more insatiable.
Q199 wouldn't get go of the man who saved him.
Brad Slater
And so, Slater took the forlorn cat home.
"He's missing three-quarters of one of his ears," Slater says. "His other ear's frostbitten. He's got little black cuts all over the pads of his paws."
But Q199's heart was fully intact and warming up nicely.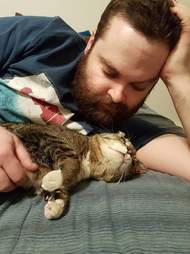 Brad Slater
"I went to the bedroom to see him and, of course, he's all over me," Slater says.
Despite their instant connection, Slater and Q199 may soon be parted. As their story spread, a family in Saskatchewan got in touch.
Q199 may actually be Tiger, a cat who recently went missing from their home.
"I'm just happy he gets a second chance in life," Slater says. "Not too many animals do."
Watch a video of Slater and the stowaway cat below: