It's a good thing Renee Pelton has a lot of experience treating hearts. Because when Honeycake came into her life, his heart was hurting in more ways than one.
It wasn't only that his former owner put him and his siblings in a bag and hurled them from a moving car.
Those wounds, thanks to the efforts of the Michigan Cat Rescue, would heal. And a seemingly broken-hearted, abandoned cat would find just the right fit with Pelton, who's a nurse. He'd also get a fresh name - Finnegan - to go along with his fresh start.
"I went on Facebook and saw this video of Finnegan from the Michigan Cat Rescue and at that moment I said, 'I want that cat,'" Pelton tells The Dodo.
And when Pelton picked up Finnegan for the first time, the cat was eager to show his appreciation, covering his new mom in kisses.
"He likes to give kisses, loves hugs, loves to be held like a baby," Pelton says. "I've never had a cat like him."
But while some cats seem to enjoy nine full lives, Finnegan, who is just 7 months old, may live a shorter life than most cats.
Heart trouble.
"It started when I took him for a physical and they said, 'Oh my god, he has a heart murmur,'" Pelton says.
A substantial heart murmur.
"He's not going to be a cat that lives to be 21 years old," Pelton explains. "We have to take him every year and he'll be on medication and might die of heart failure. He could live 10 years."
It's a condition shared by Finnegan's siblings, who were named Cookie Pie and Custard Pie by staff at the Michigan Cat Rescue.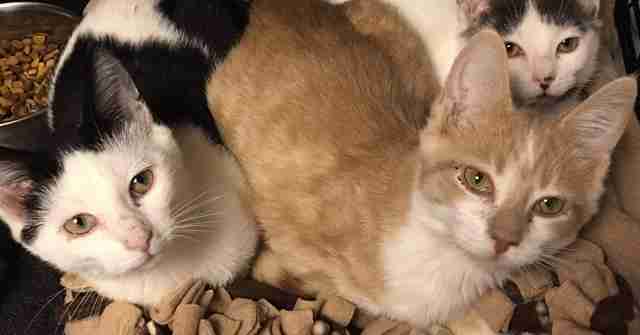 It means these cats will have to make the most of the one life they were given - a life that began with calamity.
The final bookend in Finnegan's life will be a nurse's love - a woman well-versed in ways of the heart. But make no mistake. Finnegan has no intention of being anyone's patient. Only a best friend.
"I'm not taking care of him, he's taking care of me," Pelton says.
Now, his siblings, Cookie Pie and Custard Pie - who bonded at the rescue - are hoping to follow in their brother's paw steps. They need a home together. They could also use some help with their medical expenses.
For a small group like the Michigan Cat Rescue, health issues among the animals it saves can come at a catastrophic cost.
"I broke out in tears when they told me it was going to cost $700," the group's founder, Nancy Hutchinson, tells The Dodo. "Its $350 for each cat for a consult and cardiac ultrasound.
"We have to have them properly diagnosed to see if they have the same issue or not because it can be genetic."