Cat Who Spent Most Of Her Life Indoors Is Road Tripping Across The Country
She's seen everything from Yellowstone to the Great Smoky Mountains.
Barley has been an indoor cat her whole life, but always loved any opportunity to spend a little time outside. When her mom, Elyse Leyenberger, decided to move from Oakland, California, back to her hometown of Philadelphia, she took Barley with her - on an epic road trip across the county.
Elyse Leyenberger
Barley and her mom left on August 12 and have been on the road for the past two weeks. Over the course of a month or so leading up to the trip, Leyenberger trained Barley to be on a leash by giving her a treat every time her harness went on.
While Barley doesn't mind spending time in the car, what she really loves is getting the chance to explore the great outdoors on the various stops along their journey.
Elyse Leyenberger
This is Barley's first time seeing the world ...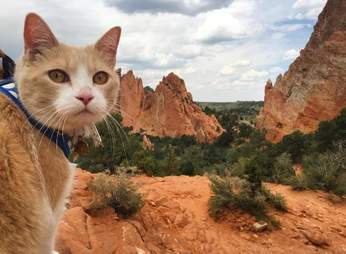 Elyse Leyenberger
... and she's definitely making the most of it so far.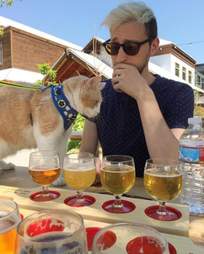 Elyse Leyenberger
"She loved walking around our campground just outside of Yellowstone," Leyenberger told The Dodo.
Elyse Leyenberger
On her journey, Barley has also gotten to see the Bonneville Salt Flats in Utah ...
Elyse Leyenberger
... the Parthenon replica in Nashville, Tennessee ...
Elyse Leyenberger
... and lots and lots of nature.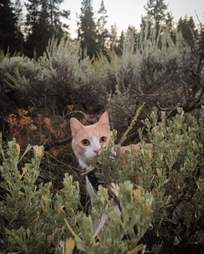 Elyse Leyenberger
While Barley loved romping around outdoors during the trip, she didn't mind spending time in the car to unwind, either.
"She likes both, so I think it depends on the surroundings," Leyenberger said. "She likes walking around in parks, but if we're just someplace picking up lunch, she'd just as soon keep on napping."
Elyse Leyenberger
Barley and her mom are ending their adventure on August 25 and will finally be arriving at their new home. While Barley might be glad for a bit of a break, there's no doubt she'll miss all the traveling and exploring.
Once you've had a taste of adventure, it's hard to forget.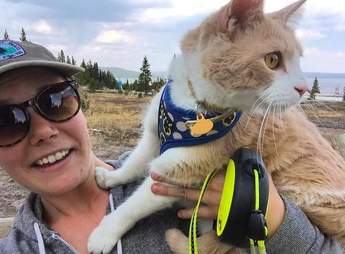 Elyse Leyenberger