Hero Cat Takes A Bullet For 3-Year-Old Boy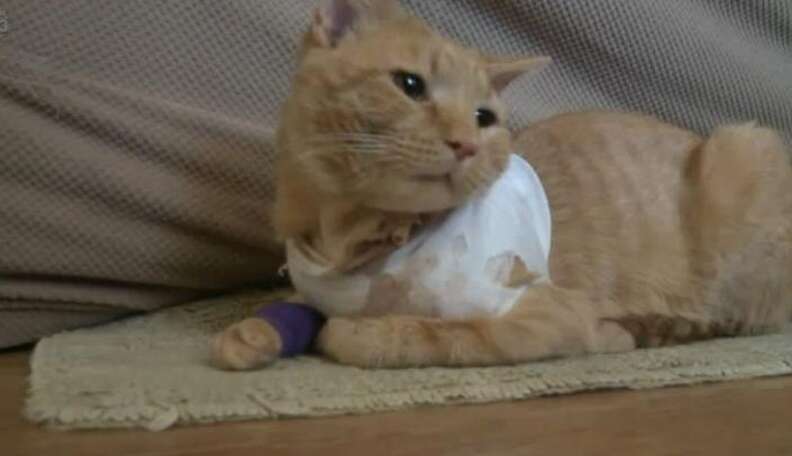 Dogs have quite the reputation for saving the day - and sometimes their owners' lives - but what about cats? Cats can totally be heroes too.
In fact, one cat truly became man's best friend: When a stray bullet came through one family's window, Opie the cat took the bullet himself, preventing it from injuring his 3-year-old human.
Angelica Snipe's peaceful night was shattered this past Thursday when the bullet came flying through the window of her home, Fox 8 News reported - perilously close to where her son was asleep on the couch. She raced to check on him and found him sleeping soundly, but her cat, Opie, was lying on the floor. Angelica realized that Opie had been shot.
Angelica is convinced that if her cat had not been there, her son probably would have been hit instead. When the vet asked Angelica if she wanted to euthanize Opie, she refused. Opie had saved her son's life, and so she became determined to return the favor.
"I wanted to keep him. He was my son's little hero, so I need to keep him around," Angelica told Fox 8 News.
Opie is not the only hero cat out there. Cats can save the day just as well as dogs can, like the cat who woke up her family in the middle of the night to stop an intruder, or even the cat who won an award for the most heroic ... dog. Watch out, dogs. Cats know how to do the protective thing, too.
Opie's act was heroic, and so was his family's decision to keep him alive and fight through his injuries. Hopefully Opie will make a full recovery, and he and his little human can remain together for a long, long time.
Check out the video of the news coverage on Opie below:
Want to spoil your pet? Enter to win an exclusive Dodo giveaway of $1,000 to Thrive's pet market.