Cop Shoots Cat Dead ... For Hissing?
A Pennsylvania man says his cat was shot to death by a police officer after getting out of the house.
The cat's apparent crime? Hissing at a cop.
Sugar, a 6-year-old rescue, got loose in a North Catasauqua neighborhood earlier this month, according to his owner's account on Facebook.
Tom Newhart / Facebook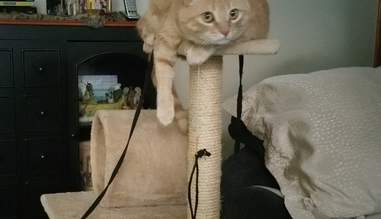 Tom Newhart / Facebook
Neighbor Mike Lienert found Sugar and called police, claiming the cat was lost and possibly injured.
Speaking with local TV station WFMZ, Lienert gave a chilling account of his interaction with a North Catasauqua police officer.
"The first thing he said at the door, is, 'Well, it's not the most politically correct thing but just so you know, if it's a wounded animal, we're probably going to have to put it down.'"
Not long after that, Lienert says, the officer shot Sugar dead, telling the man he would have to clean up the mess.
The cat was hissing, he adds, but did not seem dangerous.
"I guess he didn't want to make any effort to lure and catch her for us to claim, so he pulled out his shotgun and shot her dead," the cat's owner Tom Newhart wrote on his Facebook page.
Newhart has filed a complaint with the North Catasauqua borough over the incident.
The borough has since issued a statement claiming the incident is under investigation.
Cold comfort for Tom Newhart, who rescued Sugar when he was a newborn kitten.
"It's like one of your children," he told WFMZ, wiping away tears. "You've raised them since they were little. You bottle feed them ..."
At the very least, Newhart wants to the police officer fired.
"This guy doesn't deserve the badge he wears, and should be fired immediately and held accountable," Newhart said in a Facebook post.
Want to make sure this officer is held accountable? Call the North Catasauqua borough at 610-264-1504. You can also visit this website.
To learn more about finding justice for companion animals killed by police, visit the Animal Legal Defense Fund here.