Cat Finally Lets His Mom Hold Him — Months After Being Adopted
He knows he's safe now.
Pharaoh the cat spent the first part of his life living in the woods near a trailer park. He was absolutely terrified of people - until he met his new mom.
Cheyenne first met Pharaoh at her local shelter, where she was looking for a friend for her kitten. Staffers told her Pharaoh was around 2 years old, and that a resident of the trailer park he'd been living near had brought him in.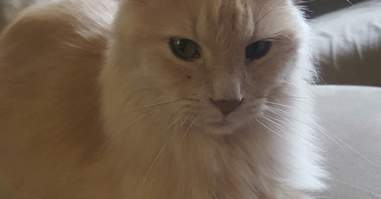 Cheyenne
"He wasn't exactly what I was looking for at the time, but I fell in love with him when I met him, and knew I had to take him home," Cheyenne told The Dodo. "Growing up, I had a formerly feral cat and knew what great pets they could be. I also figured since Pharaoh was still young, it would be easier for him to warm up to living with people."
Cheyenne brought Pharaoh home and put him in his own room so he could adjust to his new home. He would come over to greet his new mom every time she came into the room, but he refused to let anyone touch him. He also refused to eat.
"I assumed he was just nervous, as the shelter said he'd been eating fine," Cheyenne said. "The second day, he didn't eat again. Finally, on the fourth day of no eating, I figured something must be wrong and I took him to the vet."
Cheyenne
When Cheyenne brought Pharaoh to get checked out, the vet delivered some surprising news - Pharaoh was actually around 10 years old.
Pharaoh was diagnosed with severe hyperthyroidism, a heart murmur and gum disease. He was also severely underweight for his age. The vet prescribed him medication that his mom hoped would encourage him to start eating again.
"He definitely was not the healthy kitten I signed on for, but at this point I was already too attached to him to even consider not keeping him," Cheyenne said.
Cheyenne
Pharaoh started his meds immediately, and his health started to improve - but he still wouldn't let anyone touch him. He was still a very nervous, scared cat, and his mom had no idea what he went through during the first 10 years of his life. She loved him so much anyway, though, and patiently waited for the day when Pharaoh learned to trust her completely.
Finally, that day came.
"I was sitting on the couch and he approached me and jumped into my lap, which was very unusual," Cheyenne said. "I pet him for a while, and when I stood up, he followed me and stood on his hind legs, pawing at me. I slowly picked him up and he immediately climbed onto my shoulders, purring."
Cheyenne
After being afraid for so long, Pharaoh finally realized he was safe.
Pharaoh is still very standoffish with people he doesn't know, but he's getting a little braver every day. With the help of his new mom, he's learning that the world isn't so scary after all, and that his new home is filled only with love.