Cat Who Almost Drowned In Flood Warms Up In Little Sweater
"She was very happy when held in your arms, and she held on tight."
Earlier this week, Mat Dunsdon was driving with his partner, Kylie, and 9-year-old daughter through a heavy rainstorm in Sydney, Australia. The streets were flooding, and the drains were working overtime to suck in all the water. When Dunsdon stopped at an intersection, he saw a branch twirling in circles above a drain. Then he saw something else - something alive.
It was a cat, Dunsdon told The Dodo: "Straight away, Kylie says to me, 'We have to get it.'"
Dunsdon rushed out of the car. The rain drenched him within seconds, but he knew he had to save the cat. Any second, the flood waters could suck her down the drain and drown her.
When Dunsdon reached her, he grabbed the cat by the scruff of the neck.
"She was petrified," Dunsdon said. "When I went to pick her up, her eyes were focused on me."
While it's not clear how the cat got stuck in the drain in the first place, she'd probably gotten swept away in the flash flood. Thankfully, her paws had gotten wedged into the drain grate, which essentially saved her life. Even so, the whole experience would have been terrifying for her.
"We learned at the vet she had torn off a few rear nails, so I assume she struggled," Dunsdon said.
The next thing they did was take the cat - named Lilly - to a local vet.
"When Lilly arrived ... she was hypothermic, soaking wet, had some torn nails and was breathing hard," Dr. Wilson So, veterinarian at WellPet Vets, told The Dodo.
So checked Lilly's lungs for water, but his main concern was her hypothermia.
"She had a body temperature of 33 degrees," So said. "This is well below normal temperature she should have been, which is 38 degrees. We needed to warm her slowly."
Lilly was tucked inside a special warming blanket for several hours. Eventually, her body warmed up to a normal, healthy temperature.
But even when Lilly no longer needed to be in the warming blanket, the vet staff dressed her in a sweater and onesie.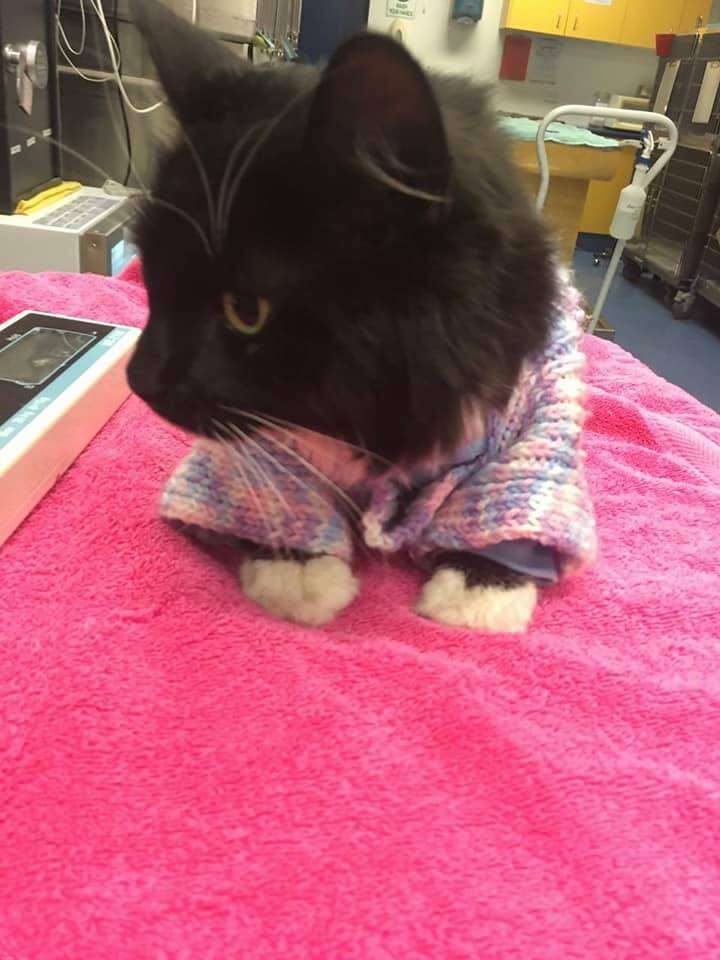 "Lilly was glad to be warm," Allison Robinson, executive manager and marketing director for WellPet Vets, told The Dodo "She was very happy when held in your arms, and she held on tight."
Lilly was so affectionate that the vet staff nicknamed her "Smoochy."
Lilly didn't have a microchip, but the vet staff managed to locate her owners after posting photos of Lilly on social media. The owners picked her up as soon as they could.
"I was extremely relieved to hear that we finally could call Lilly by name and reunite her with her owners," So said. "Being able to get her back home is one of the most rewarding parts of my job and I think the best part of her story."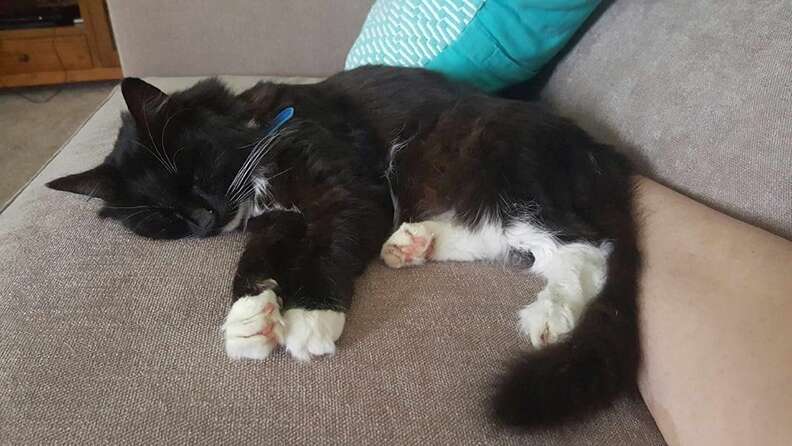 While Lilly found her way home, it's usually hard - if not impossible - to reunite pets with their owners when the animal doesn't have a microchip. For this reason, So recommends that all pet cats and dogs get a microchip.
"I am told [the owners] were extremely happy," So said. "I can also happily report that Lilly's owners asked us to microchip her. We hope that she never finds herself lost again, but if she does, she will be identified quickly."