Dapper Cat Knows Exactly How To Get His Human To Feed Him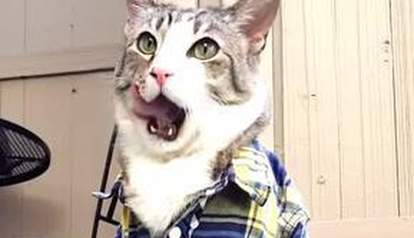 <p> <a href="https://www.youtube.com/watch?v=jwxSlDg-0DQ">YouTube/watergirlmv</a><span></span> </p>
A stylish cat has figured out how to get what he wants.
Dressed inexplicably in a plaid button-down shirt, Pecan, the tabby with white markings, has cracked the code for getting humans to serve him properly.
He simply rings a bell.
This cat doesn't mince meows when it comes to his desires.
He isn't shy about asking his human for what he wants.
And his human usually complies.
The bell rings whenever Pecan wants more noshings ... which is always.
"If you please, I'd like some more."
"Ah! Don't mind if I do."
"Delish."