Rescued cats don't bear a grudge. Whatever they've been through, whatever scars they bear, they're hidden beneath a coat of soft fur.
It just took a little time for Tristan to leave his history behind him.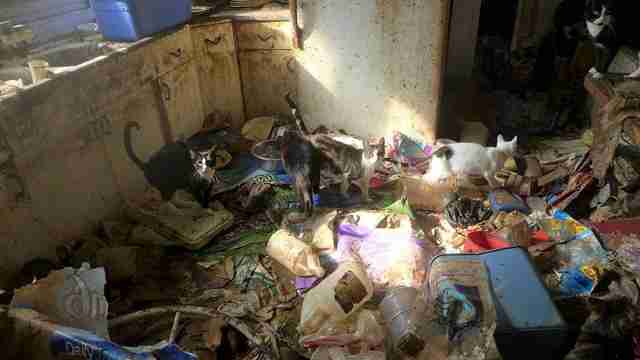 "I saw him in the filthy window when we pulled up," Amy Haas-Gray, founder of Hardin-Eldora Animal Rescue Team (HEART), tells The Dodo. "Just a tiny little guy, eyes all matted shut, he had his head back and his mouth open trying to breathe. He was the first one I grabbed when we finally got in there."
With a little time and a lot of care, Tristan would open his eyes to a brand-new life.
"I knew that he had been in a rough situation before I adopted him," Megan Riker tells The Dodo.
In fact, Haas-Gray had warned Riker before she met him that "he looked a little rough."
It wasn't until Riker met him that the depths of his old situation really hit home.
One look at the forlorn feline, Riker says, "broke my heart."
But not Tristan's. The little black cat seemed to be in a hurry to catch up on all the things in life he had missed.
"He loves playing with my dogs," Riker explains. "Especially my German shepherd, Holly."
"He's a very chatty cat," she adds, "Often trilling and cooing for attention, and has the most adorable way of gently patting my leg when he wants attention."
Tristan isn't the only cat from that Iowa property who underwent a stunning transformation over the last year.
Tyrone went from a face in a crowd of despair ...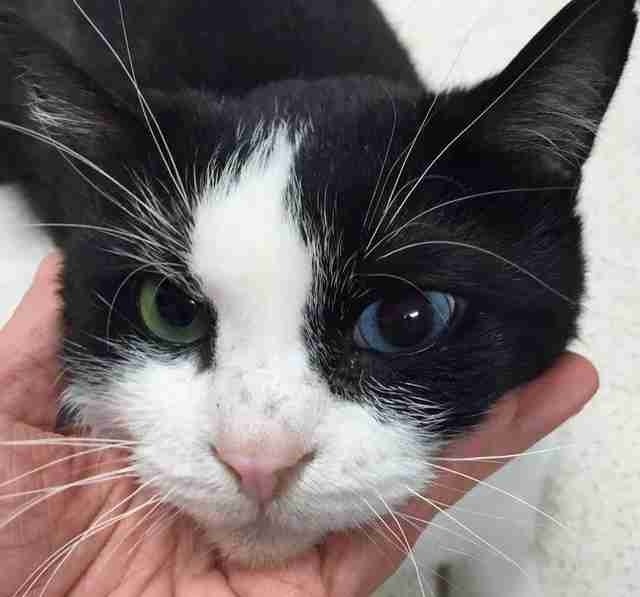 And, like Tristan, he loves to play fetch.
Hardin-Eldora Animal Rescue Team
When Riker first looked to adopt a cat, she admits she was looking for a younger cat. Instead, she found a cat who was robbed of his youth.
Maybe that's why he spends every day living like an eternal kitten.
"But he's a beautiful boy now, with a long smoke coat, and very playful," she says.