Missy the cat was playing in her yard when her family noticed that she wasn't quite acting like herself.
"My dad is the one who found her and knew something was very wrong when she wasn't responding to him," Angela Sgambaro, Missy's mom, told The Dodo. "No lift of the head, no movement of the tail, nothing. So he rushed her down to the vet."
It turned out that at some point during her backyard adventures, Missy had been bitten by a snake, and was paralyzed by the effects of the venom. She was hospitalized, and remained paralyzed for a few days before her muscles finally started to heal again.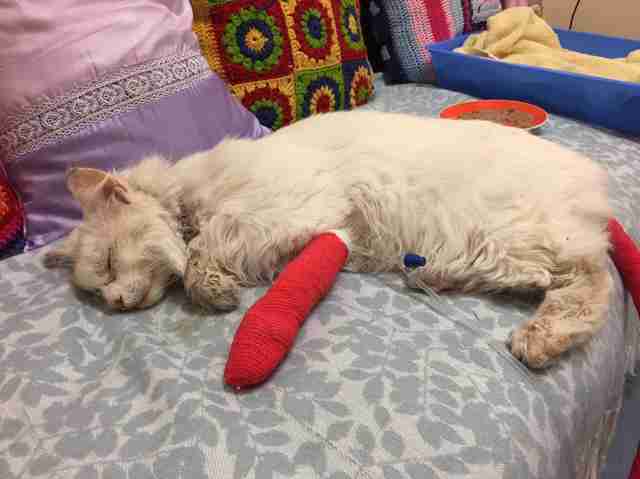 The whole ordeal was incredibly scary, for both Missy and her mom, and so one of the nurses decided to do something to try and lift both their spirits.
"On Monday the nurse had said she might change her bandages to Christmas colors for a little festivity and I thought she was joking, but no," Sgambaro said. "I came in yesterday for a visit and they brought her in to me wrapped in red and green."
It was a small gesture, but the festive bandages made Sgambaro feel a little better about having her best friend in the hospital during the holiday season.
Luckily, Missy is doing a lot better now, and will hopefully be heading home very soon. Neither she nor her mom will ever forget the kind nurses who helped make her stay at the hospital a little bit easier.