Kitten Rescued From Puppy Mill Is Completely Spoiled Now
She got so sick, she had to have her nose removed.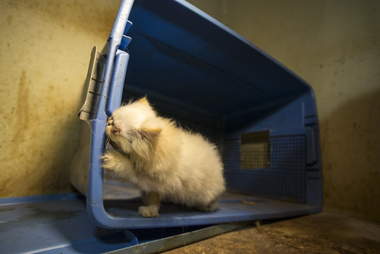 Because of overbreeding and neglect, Athena was sick ever since she was a kitten.

| HSUS
"Athena was born in a North Carolina puppy mill and spent her days confined to a house overrun by dogs and cats in filthy cages," Samantha Miller, spokesperson for the Humane Society of the United States (HSUS), told The Dodo. Miller added that because no North Carolina laws were regulating puppy mills, her owner was able to operate the terrible place, even though she had been arrested and convicted of animal cruelty a decade before.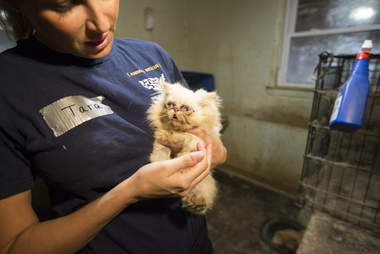 Athena was pulled from a filthy room during a puppy mill bust in 2014

| HSUS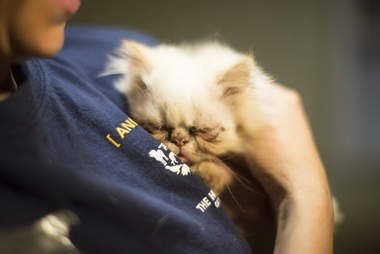 Athena almost didn't survive the horrible conditions of the puppy mill where she lived.

| HSUS
When Athena was found, she had a severe and persistent upper respiratory infection (URI) because of overbreeding. In addition to stress playing a role in recurring URIs, flat-faced cat breeds are especially prone to these kinds of infections. Athena was so sick she could hardly breathe.
"The first vet I took her to said she might have to be put down," Athena's new owner said. "I have never cried so hard."
But the family luckily got a second opinion from another veterinarian who said that if he took Athena's whole nose off, she would be able to live a normal life. "[It would] just cosmetically look weird," Dani Ellis, Athena's new owner, said. "[I thought] 'Who cares?'"
So Athena had the surgery, and now lives a normal life, albeit without a nose.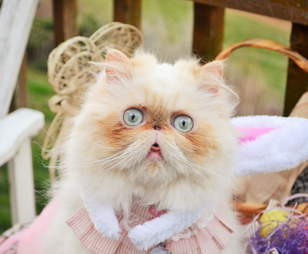 To resolve persistent infections, Athena had to have her nose removed.

| HSUS
Athena hasn't suffered another URI since her surgery. Because she's missing her nose, she breathes through her mouth. "She keeps her tongue out all the time," Ellis said.
"She is the most loving cat I have ever met," Ellis added. And it's pretty clear Athena's mom loves her back just as much.
Athena, the noseless cat, celebrated Easter with a big stuffed bunny.

| HSUS
Athena now spends her days raising awareness of the plight of animals in puppy mills. "She still shares her home with dogs," Ellis said, "but it's not so bad now."
To take a stand against puppy mills, you can donate to the HSUS campaign here.