Guy Finds His Cat After 11 Years — And Decides To Let Someone Else Keep Him
"I was absolutely blown away when I heard the news and was actually a bit nervous to meet him."
T-Shirt the kitten was adopted by his dad when he was just 6 weeks old. One of his dad's coworkers had a cat who'd given birth, and she brought the kittens to work with her to see if anyone wanted to adopt them. From the moment Rowan Jones met T-Shirt, he knew he was a special little guy.
"I immediately fell in love with T-Shirt because he was absolutely insane," Jones told The Dodo. "You could see even at that young age that he had a lot of personality. I actually had work drinks on as it was the last day of the working year, so I had to take him to the pub with me. He had no problems mingling with the people at the bar."
T-Shirt had always been an incredibly social, adventurous cat, and loved to play outside and meet people in his neighborhood. He would occasionally stay away for too long, and his dad would find him hanging out with another family in the neighborhood. He wore a collar, though, and he never usually stayed lost for long - until one day, when he wandered away and never came back. He was around 1 year old.
"It was normal for him to disappear and return, or for us to go and find him," Jones said. "He had a collar with our details, but when he went missing for good he wasn't wearing his collar, unfortunately, because we were in the process of changing it. We looked for a very long time, but were never able to find him."
Jones was heartbroken when T-Shirt went missing, terrified that he'd been hit by a car or gotten hurt somehow. As time went on he ended up getting a new cat, and could only hope that T-Shirt had found himself a new family somewhere, and that wherever he was, he was happy.
It was hard for Jones to accept the fact that he'd never know what happened to his little friend - until one day, 11 years later, when he got a call from a local vet. T-Shirt had been found.
While no one is quite sure where T-Shirt was for the first seven years after he went missing, for the past four years he'd been living in the same neighborhood, being fed by everyone who lived there. It turns out that neighborhood was only a few blocks from where he originally went missing.
When T-Shirt was hit by a car, the person who'd been feeding and caring for him the most brought him to the vet to get him treated. The vet scanned T-Shirt for a microchip, and found out he belonged to Jones.
"The vet was amazed at how healthy he was for a street cat, so he was clearly getting a lot of meals from a lot of people," Jones said.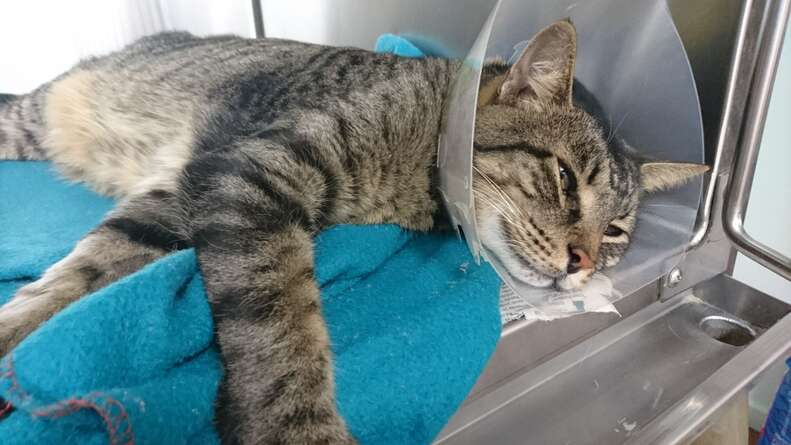 Jones was shocked and overjoyed when he got the call that his cat had been found. He was so relieved to know that he was alive and well, and that he had somehow made a life for himself during all those years he'd been away.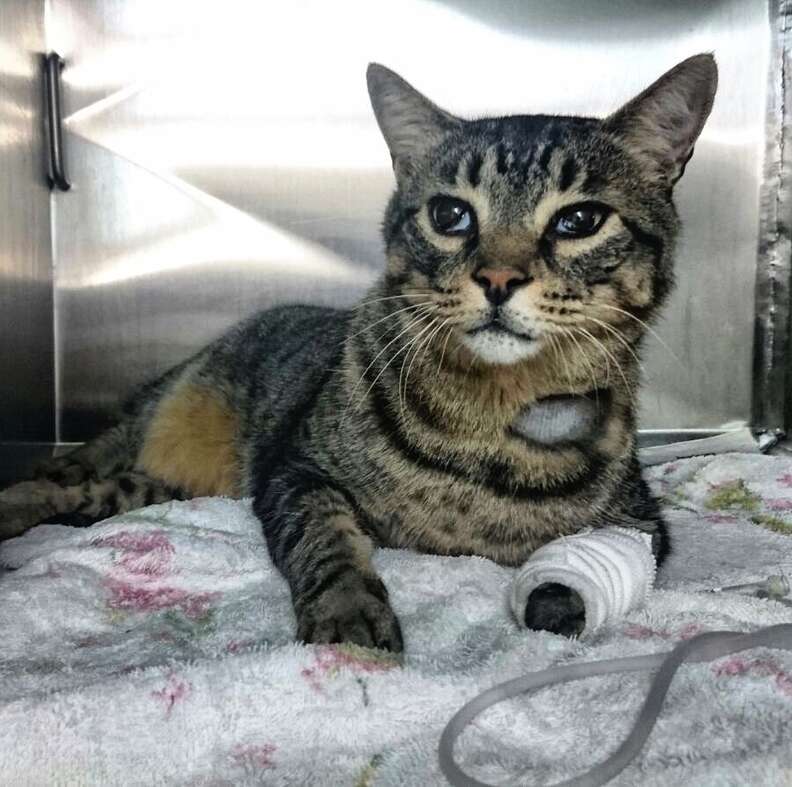 "I was absolutely blown away when I heard the news and was actually a bit nervous to meet him," Jones said. "To finally get closure and find out he has been doing well is amazing."
When Jones went to reunite with T-Shirt, he found out that he wasn't his only visitor. Lots of people from the neighborhood where he'd been living had been coming to visit him while he recovered at the vet's office, proof of just how loved T-Shirt was, even without a steady family.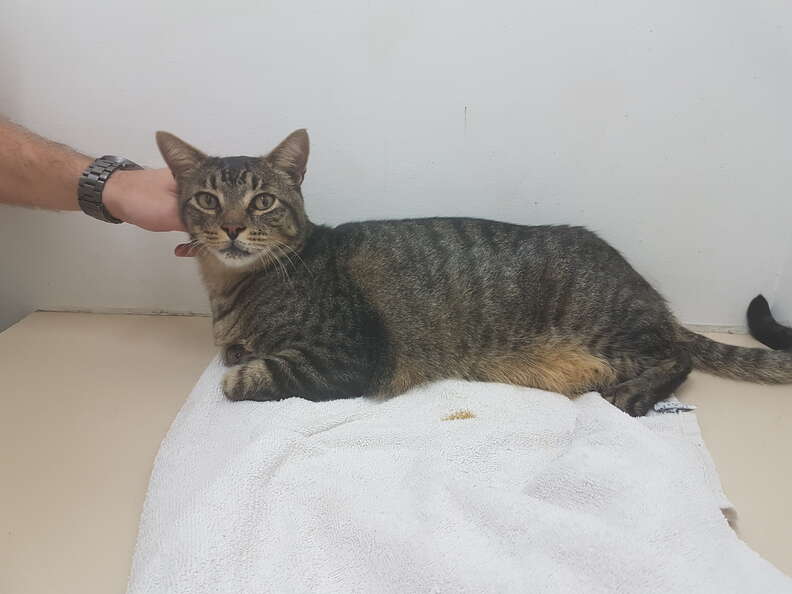 The man who brought T-Shirt in called him Keemo, and had been caring for him steadily for around two years. He and T-Shirt had formed a special bond over the time they'd been together, and he wanted more than anything to continue caring for him. Jones could see how much the pair had bonded, and even though he loved T-Shirt, too, he knew what he had to do.
"I did want T-Shirt back, but knowing what T-Shirt is like and the fact that this guy actually spent more time with T-Shirt than I did, I thought, he should keep him," Jones said. "T-Shirt clearly likes living in the area and I made sure that I will be able to visit T-Shirt and check in on him."
Jones ended up splitting the cost of T-Shirt's vet expenses with his new owner, who took T-Shirt in as his own and now sends Jones regular updates about how the cat is doing. Even though he misses and loves T-Shirt, he knows his new dad loves him too, and will give him the life he deserves. It may not be the most conventional ending, but it's a happy one, and that's what matters.