Cat No One Would Touch Is So Grateful Someone Finally Hugged Him
"When I picked him up, he put his little head on my shoulder."
Everything about Valentino suggested people not give him the one thing he needed more than anything: human contact.
The cat's hardened fur was riddled with grime. He suffered from sarcoptic mange, a condition that's highly contagious to both cats and humans. His eyes were so caked and swollen, they were sealed shut.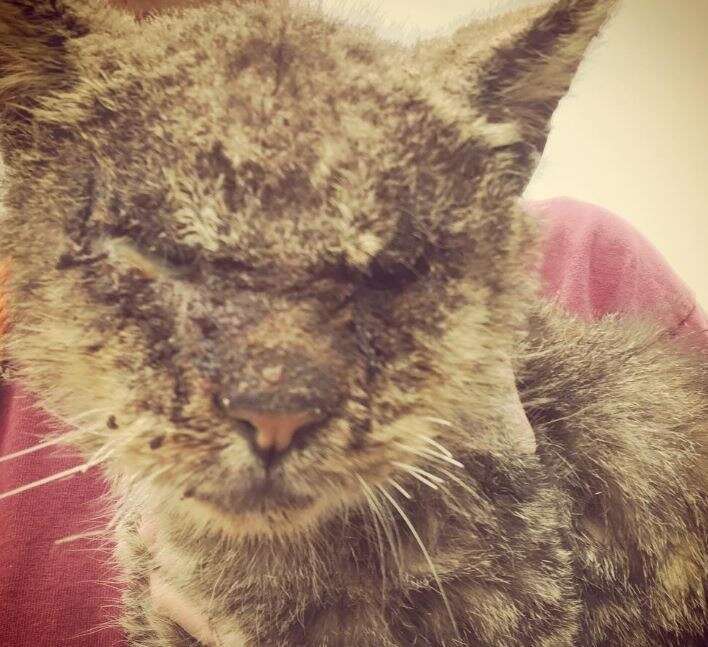 And Elaine Seamans didn't care.
While passing by his cage at the Baldwin Park animal shelter last week, she heard his faint cry for help.
"He reached out with his little paw and made the tiniest meow," Seamans tells The Dodo. "It was like he was screaming without verbalizing it: 'Please help me.'"
"There are times when it's not an option to keep walking," she adds. "You just have to stop. This was one of those times."
And she opted not to wear gloves, but to press Valentino directly to her heart.
"When I picked him up, he put his little head on my shoulder," Seamans says. "That was it. I had to get him out."
Then Seamans, founder of the At-Choo Foundation and a regular visitor at the shelter, let Valentino make the call for help himself.
While still holding the cat, she dialed her friend, Toby Wisneski, founder of Leave No Paws Behind.
"When I was talking to Elaine on the phone and she let me hear his little meow, I said, 'That's it,'" she tells The Dodo. "I could hear him. That sealed the deal."
Wisneski picked up Valentino over the weekend, taking him directly to a veterinary clinic where - although he couldn't see the staff - Valentino could feel his world changing for the better "He couldn't move and he couldn't see. But God love him, he's a fighter," Wisneski says. "Everybody just adores him and they're very protective of him.
"His prognosis is excellent and once he gets through this, he's going to have a long life ahead of him."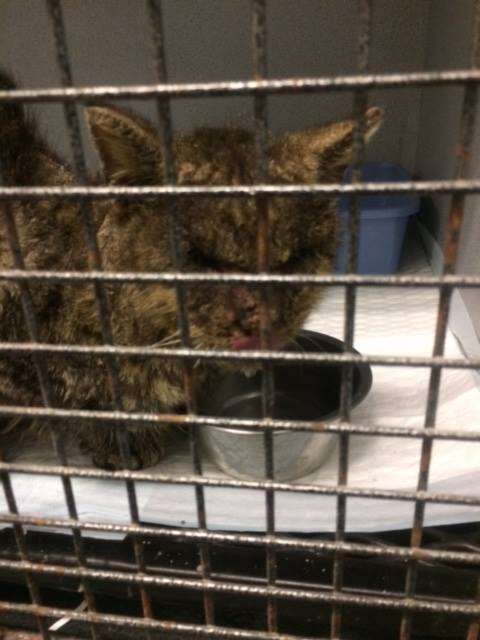 "His heart is good," she adds.
But then again, that's one thing that a veterinarian didn't need to confirm.
Seamans knew that as soon as she took every risk in the world to hold a mange-ridden cat close to her own heart - and let him know he wasn't alone.