Cat Discovers A Place Where She Can Rule Over Everyone
Piggy Paradise, an area of Best Friends Animal Sanctuary, is full of rescue pigs getting a second chance at life. There are all kinds of adorable pigs there, including one who looks a little different from the rest - because she's not a pig at all:
Best Friends Animal Society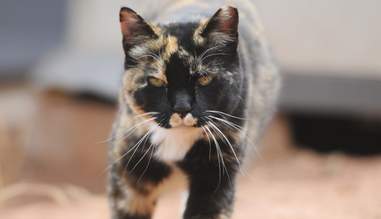 Best Friends Animal Society
Kitty Kitty Meow Meow is a cat who refuses to live or spend time anywhere else.
Best Friends Animal Society
Best Friends Animal Society
Meow, as she is usually called, started showing up at the sanctuary from time to time around 14 years ago, long before there was a Piggy Paradise. When the pigs became a staple of the sanctuary, Meow started popping by more and more - until finally she decided that her real calling in life was to be queen of the pigs.
And so that's where she stayed.
Meow has never been interested in being an indoor cat and prefers instead to live and sleep with the pigs in their enclosures. Still, she's very much a cat at heart.
"She walks around and surveys her kingdom like any cat would," Jen Reid, manager of Piggy Paradise, told The Dodo. "She checks in on everything. But she's smart enough to stay out of the politics in Piggy Paradise." Smart cat.
Rather than form bonds with any particular pig, Meow simply enjoys being a quiet presence among them all, and hanging out with the volunteers who come to take care of them. When you're the only cat in a sea of pigs, you're bound to get a lot of attention.
"She's our resident diva and community cat, the only one here at the sanctuary. The rest of the cats live in Cat World with inside rooms and attached outside enclosures," Reid said.
Instead of trying to be the leader of a group of other sassy, independent cats, Meow decided to be with a group that's much less opinionated - and super adorable to watch her rule over.
"If you were to ask Meow, she would probably say she is the manager of Piggy Paradise," Reid said.
Check out a video of Meow and her piggy kingdom below: