Cat Won't Stop Kissing Dog Who's Having A Bad Day
<p>Heidi Schermerhorn-Wagner<span></span></p>
<p>Heidi Schermerhorn-Wagner<span></span></p>
Just five years ago, Anna's only friend was the tree she was bound to by a man's necktie.
She was 28 pounds of hopelessness - heartworm positive, too weak to stand on her own, worn out from too many litters.
Animal control officers in Union County, South Carolina, found her like that.
Then Heidi Schermerhorn-Wagner found her at the shelter.
This photograph was taken on April 21, 2011 - the day they met.
"I just knew that no matter what I was going to help her," Schermerhorn-Wagner tells The Dodo.
Over the next five years, Schermerhorn-Wagner would nurse Anna back to health, chase away the demons from her past and give her every reason to live.
Anna gave it all back a hundredfold.
In fact, she inspired her new best friend to found a rescue called Boxer Butts & Other Mutts that very year.
"Because of her, over 3,000 dogs' lives have been changed," Schermerhorn-Wagner says.
But Anna was changing too. One day, she was diagnosed with bone cancer in her right front leg. Radiographs revealed it had spread to her lungs.
Doctors said she might live another three to six months.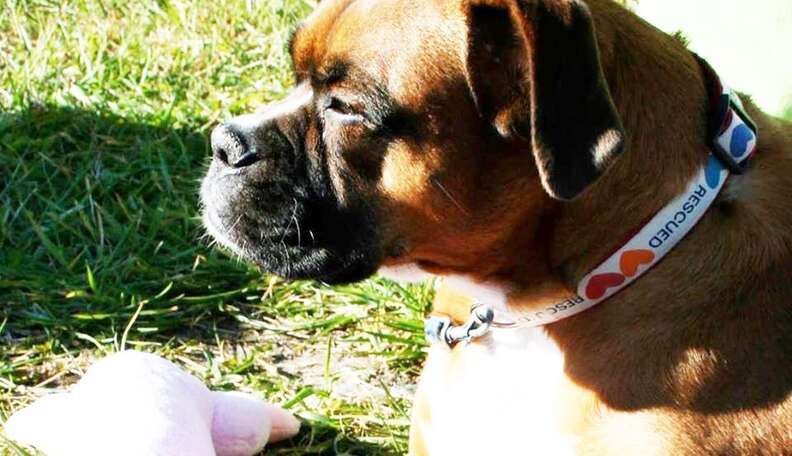 But they didn't count on all the reasons Anna had to live.
It's been a year and a half since that diagnosis.
Anna still comforts and cares for every foster dog who arrives at the family home.
"Most of them are on death's door and she will not leave their side," Schermerhorn-Wagner says. "Even on her bad days she continues to try to take care of others."
Earlier this week, Anna was having a bad day. She lay on the front porch, feeling weak and listless, the disease still very much haunting her bones.
Izzy, the family cat, approached her and tenderly licked Anna's face. For more than half an hour.
"Anna had also helped take care of Izzy when she suddenly got really sick a couple of years ago," Schermerhorn-Wagner says. "It seemed Izzy remembered and did her best to comfort Anna."
Yes, Anna. You've got friends now.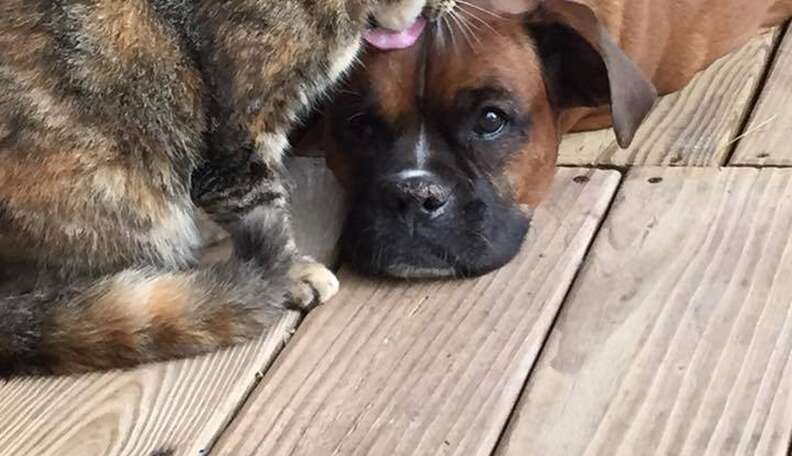 "I do not go anywhere without Anna," Schermerhorn-Wagner says. "She literally is my heart-and-soul dog. There is no way I can say that I rescued her because, in all honesty, she rescued me."
"She has taught me that no matter how bad of a day you are having, that attitude is everything and we always put one foot - or one paw - in front of the other and march on."
Want to help bring a little of that hope to a dog's life? Consider making a donation to Boxer Butts & Other Mutts here.