About eight months ago I started an ongoing photo project "Girls and Their Cats" - a series of women photographed at home with their feline companions. My goal is to capture the sweet bond that exists between women and their furry friends and to also show cat ladies in a positive light.
I've photographed over 60 women so far with plans to photograph many more. Most of the women are based in NY (but I included some Oregon ladies when I was there in September). Eventually I would like to expand to different cities around the world. Right now it's primarily a Facebook and Instagram project, but eventually I'd like to turn it into a book.
Samantha and Franklin in Greenpoint.
Franklin was rescued as a kitten after they discovered him wandering the snow in Quebec. Samantha met Franklin while visiting Quebec and fell in love. She later arranged to have him flown to Brooklyn, where he now lives with Samantha and her husband.
Jasmine and Figgaro.
Jasmine adopted Figgaro through a @catbirdnyc sponsored adoption event with @ASPCA. Figgaro has helped ease Jasmine's pain after losing her mother last year. He's also lovingly referred to as Figabro because he is one chill kitty. "He enjoys visits to Prospect Park, bike rides and whipped cream."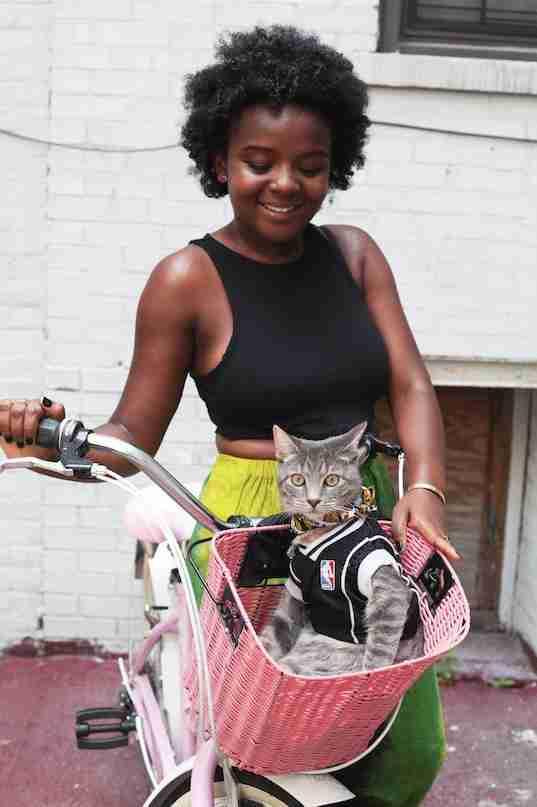 Marina and Blixa in Williamsburg.
Blixa's mother was adopted after she was found abandoned in an alley. Someone left her there because she was pregnant. Now both Blixa and his mother (not pictured) live happily with Marina.
Jackie and Stinker in Salem, OR.
About ten years ago, a friend of Jackie's found a tiny orange kitten covered in paint and roaming through an orchard alone. Knowing her friend wasn't going to keep him, Jackie agreed to take him home.
Whitney and One-eyed Willy in Ditmas Park.
Willy had been at the shelter for a long time and while Whitney was looking around she heard a young boy making fun of his one eye, and she thought the best thing she could do for him was give him a home. They've been best buds ever since.
Sugar and Coco in Hell's Kitchen.
Sugar adopted Coco over four years ago from a mobile adoption center in the city.
Giuliana and Yoncé in Williamsburg.
Giuliana found Yoncé when she was a kitten, alone and shivering at a coffee shop in the middle of winter.
Emily and Cowbear in Portland, OR.
Cowbear was picked up by our friend and taken in. She ate all the catfood, and then had a litter of kittens on a pile of clothes. My partner Adam took Cowbear home over 15 years ago, and she is still roaming the neighborhood and loving on us daily."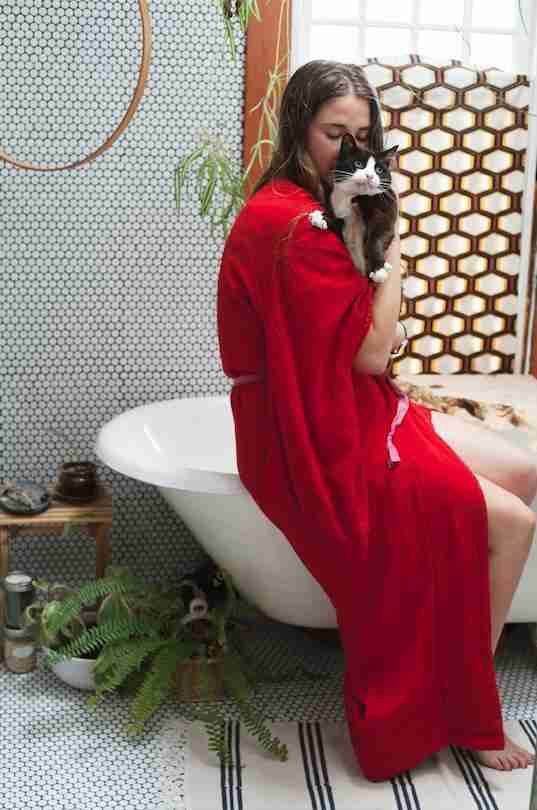 Lanna and Dots in Crown Heights.
Kelly and her sweet sphynx, aptly named Desnudo, in Bed-Stuy.
Aja and her sphynx on a leash Pearl on their rooftop in Fort Green.
Kia and Jordi in Bushwick.
Someone found Jordi on the streets in Bushwick and now he has a forever home
Natalie and Tela in Bushwick.
Natalie found Tela 11 years ago living under her old house in Savannah, and protected her from a cat-hating landlord.