Sweet Cat Wounded In Illegal Trap Now Searching For A Family
<p> Animal Rescue League Boston </p>
Wilson the cat's life was almost ruined by some idiot humans - until it was saved by some of the good ones. The orange and white cat was living as a stray on the streets of Westport, Massachusetts, when his leg was caught in a cruel and illegal leg-hold trap someone had set out.
The metal jaws of the trap were clenched so tightly around Wilson's paw, he must have been in incredible pain. Luckily a good Samaritan heard him suffering and called animal control. The officers rushed Wilson to an animal hospital where, miraculously, veterinarians determined that his leg would be able to heal.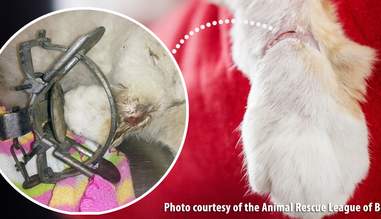 Wilson, whom rescuers believe to be about 6 years old, was taken to the Animal Rescue League (ARL) in Boston. "His paw is healing quite rapidly and he's slowly coming out of his shell, though he's still a bit shy," ARL's Ami Bowen told The Dodo. "You can tell he's a very sweet guy."
The ARL released a statement about Wilson's story, highlighting the dangers of leg-hold traps. Massachusetts is currently considering legislation that would repeal restrictions on using these cruel traps - hopefully Wilson's story will make people think twice before supporting a change like that.
As for Wilson, the ARL veterinarian says he's a "super-sweet cat" who hasn't complained at all about his injuries. Things are about to get even better for Wilson, because he's officially up for adoption this week - looking for the perfect forever home where he can live safely, and comfortably.
The ARL is raising money to cover the cost of Wilson's care, and anyone interested in donating should visit his fundraising page.