Cat Hugs All The Orphaned Kittens His Mom Brings Home
"Benny is a natural with the babies ... I'd like to think he is returning the favor we gave him a few years ago."
Benedict Cumbercat knows what it's like to get a much-needed hand in life.
When he was just a kitten - abandoned and suffering from from a litany of health issues - Ellen Carozza took a chance on him.
As a veterinary technician who has rescued countless cats, she couldn't resist taking him home.
"The moment I saw his scrawny hot mess of a body, I wanted him," Carozza tells The Dodo. "I fell in love even with the snotty nose and his horrible eye infection. I knew he was supposed to be mine."
So, Benny found just the right place in Carozza's heart.
And, as he grew up, he kept the same place open in his own heart for others in need.
Benny became the ultimate foster dad. Whenever Carozza brings home a box full of kittens, he needs to be the first cat on the scene. So far, he's fostered dozens of kittens.
"Benny is a natural with the babies," Carozza says. "I don't know if it was due to us being very hands-on with him and sharing the routines, but every box of kittens I brought home he had to see what was in it. It was like a treat.
"He actually gets very depressed when we don't have kittens. I'd like to think he is returning the favor we gave him a few years ago."
Then one day, Carozza brought home a kitten like no other - one who would need every ounce of Benny's compassion.
That would be Winifred.
Born weighing half as much as she should, Winifred, or Winnie, had been rejected by her mother. Her brother, also born too tiny, died. She was all alone in the world.
Until Carozza brought her home.
"[Kittens this tiny] don't follow the same rules as regular kittens, so you cannot go by a chart to tell you what to expect," Carozza explains. "They require a lot more care and attention to detail."
It helps that Carozza has tube-fed many a hungry kitten. And that she has an incubator at home to adjust a kitten's environment.
And that she has Benny.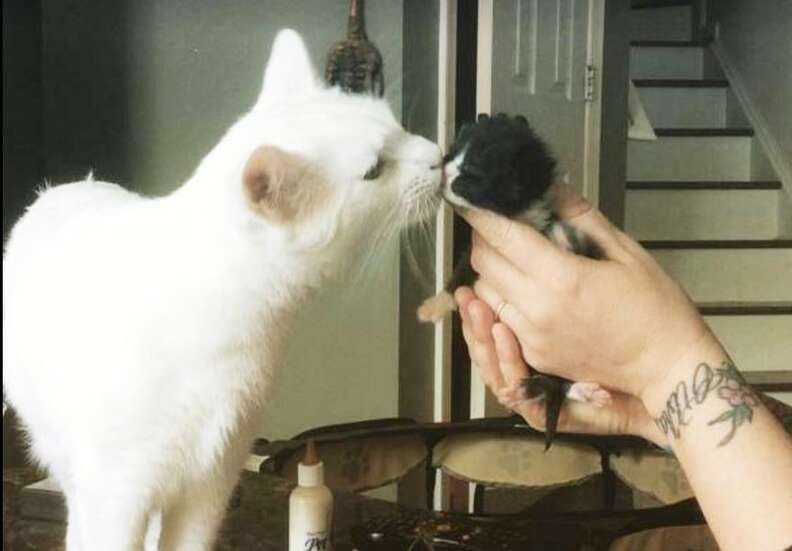 "Benny's role is comfort and socializing, Carozza says. "Having another cat to snuggle into and not a stuffed toy 24/7 does wonders for their mental well-being."
Benny wasted no time in wrapping up Winnie in his arms, giving the fragile kitten a feeling of warmth and protection.
"When the kittens aren't with Benny, they do get a snuggle cat mom with an artificial heartbeat for comfort," Carozza notes. "But it doesn't purr. It doesn't clean you. It doesn't help you to be a cat. He fills those gaps in."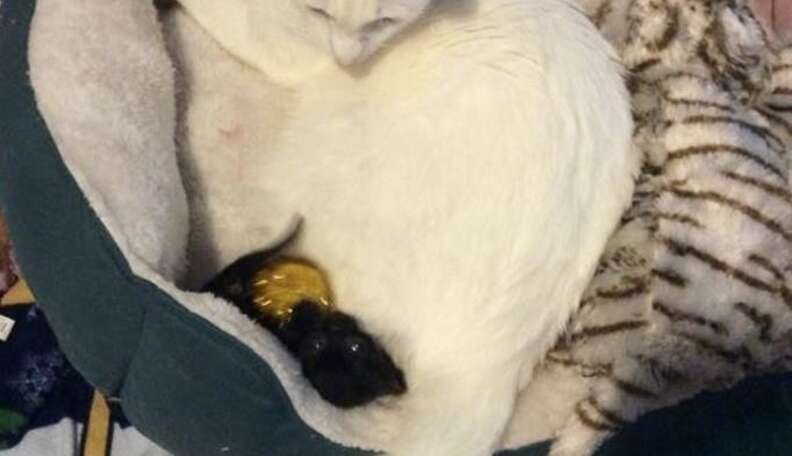 When she's stronger - and filled up on her foster dad's love - Winnie will move in with Carozza's sister in New York.
As for Benny? He'll be waiting for the next box of kittens to come through the door.