We all get a little apprehensive going to the doctor sometimes ... and pets are no exception. This cat somehow ended up at the vet, and he's not exactly jazzed about it.
In fact, he's taken quite drastic measures to try and hide ...
Any cat who is climbing into a garbage can of his own free will DEFINITELY doesn't want to be wherever he is. Have no fear though, cat. You're not alone.
There are many, many other cats who also got tricked into going to the vet and aren't too happy about it.
Like this guy, who figures "Out of sight, out of mind," right?
And this cat, who SWEARS she found an exit ...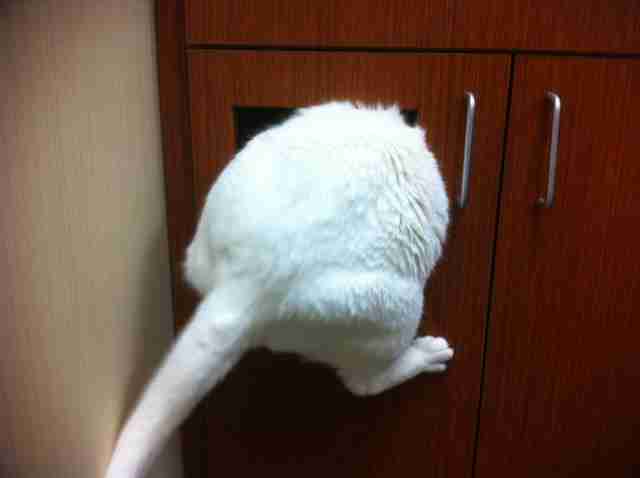 According to a recent study, "feline resistance" was actually the biggest obstacle cat owners face when trying to get their pets to the vet on a regular basis. If your cat gets super stressed out going to the vet, there are some methods you can try to calm him down.
Doing practice "check ups" in the weeks before going to the vet can help get your cat used to being poked and prodded and make the whole experience less stressful. Giving your cat a ton of love and affection before the visit can also help to soothe him and make the whole process a lot smoother.
Check out a whole bunch of other pets, and some of our readers' pets, who also really, really don't want to be at the vet.