Cat With 'Quirky' Face Finds A Mom Who Loves Everything About Him
<p>Kaitlin Zezeski<span></span></p>
<p>Kaitlin Zezeski<span></span></p>
Sometimes love at first sight can change your whole life.
Such was true for a tuxedo cat named George when his future owner, Kaitlin Zezeski, saw his photo on Petfinder.com and immediately fell in love.
She called Griffin Pond Animal Shelter in South Abington Township, Pennsylvania, several times that week to make sure George was still available. "I couldn't get there fast enough," Zezeski told The Dodo.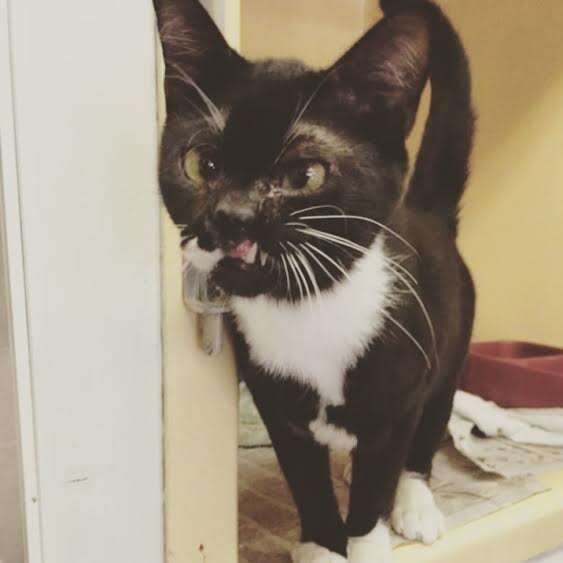 You see, George doesn't look like other cats. When he was just a homeless kitten living on the streets, an animal attacked him and he nearly died. An elderly couple found him and saved his life, nursing him back to health for as long as they could before giving him to a local rescue group. From there, George bounced around a lot between foster homes and rescue groups before eventually ending up at Griffin Pond.
"The story of George is a sad one with a storybook ending," Zezeski said. "Fortunately, not only did George survive an animal attack, but he pulled through with nearly no health problems. Aside from looking a little goofy and having goopy eyes, he's perfectly healthy!"
Though George was skinny and a little scared when Zezeski first brought him to her home in Scranton at the age of 1, he had learned how to be social through his various foster homes. "He was full of love immediately," she said.
And there was plenty of love to go around. Zezeski already had two male cats at her home, Mr. Belvedere and Thumbs, and was concerned about bringing a third male into the mix, especially because the two cats were already inseparable, the best of friends.
In reality, she didn't need to worry at all. "The day I brought him home, the three of them became immediate friends," she said. "I couldn't believe it! No hissing or aggression of any kind. I knew immediately that George was a part of our family."
Eventually, that family grew to include more rescue cats for George to play with. Now one of five cats, George has grown up as part of a herd: Thumbs, a 5-year-old flame point polydactyl Siamese mix; Mr. Belvedere, a 5-year-old Russian blue mix with a heart murmur; Queen Latifah, an 8-month-old black kitten; and her littermate, Blue. "It usually sounds like a stampede in my apartment," she said. "I feel bad for my downstairs neighbors."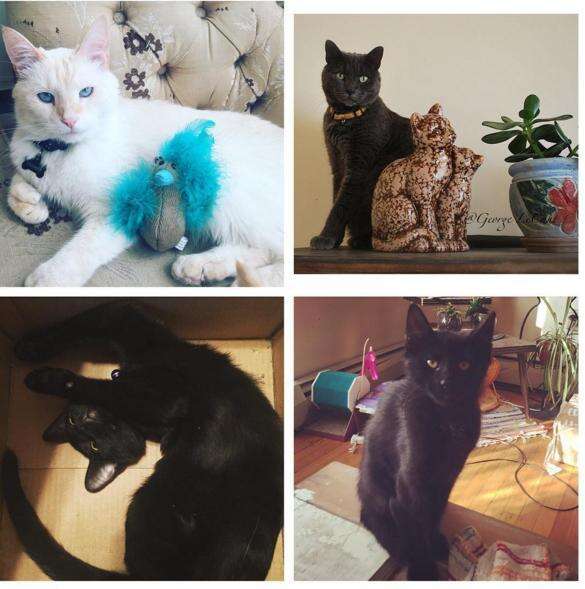 "I remember the first time George sat on my lap," Zezeski said. "I was sitting on the couch watching TV and he jumped up on the couch. I pet him for a minute, expecting him to jump back down, and he started walking toward me. He curled up like a shrimp on my lap and my heart just melted. At that moment, I knew George fully trusted me and loved me. Now he won't leave my side!"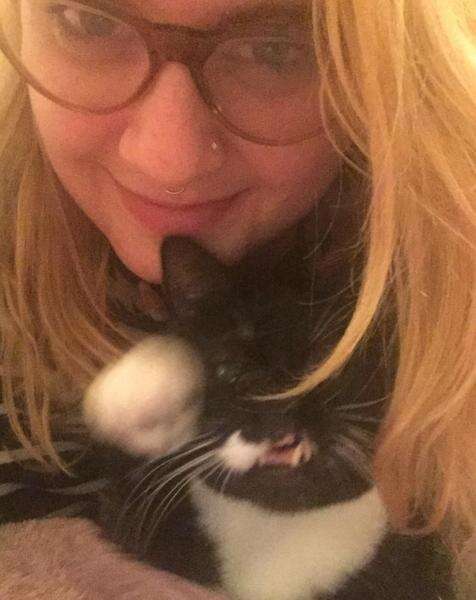 "He makes me laugh so much every day," she said. "Sometimes I feel like he forgets how to cat."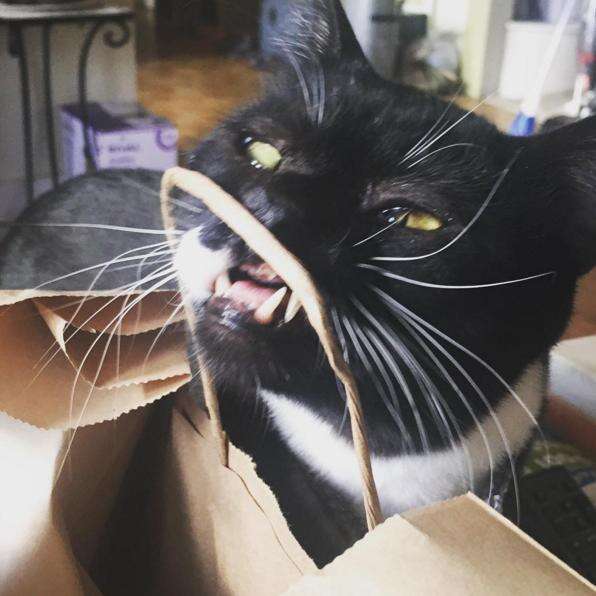 "He's extremely curious and follows me everywhere," Zezeski said. "He sits in the kitchen sink when I cook. When I eat, he sits next to me and if it's something he wants, he will reach out a paw and try to pull my arm towards him."
"Every time I take a shower he leaves the bathroom with a wet head," she said.
George prefers to sleep alone, however, away from all his siblings.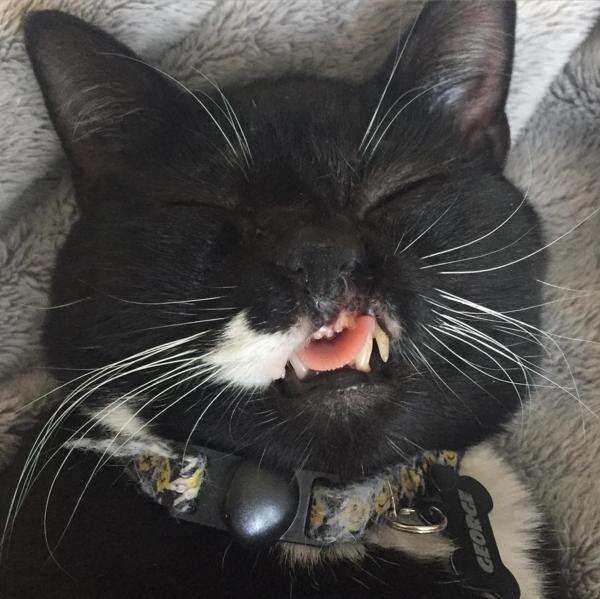 "He grooms me every day and I consider it an honor (at least for the first few minutes)," Zezeski said. "He also loves to chase shadows and rainbows around the room."
"His favorite toy is a spring," she said. "I must wake up with at least five of them every day in my bed."
George also has amassed quite a bit of fan art from his social media followers, from the meme-worthy ...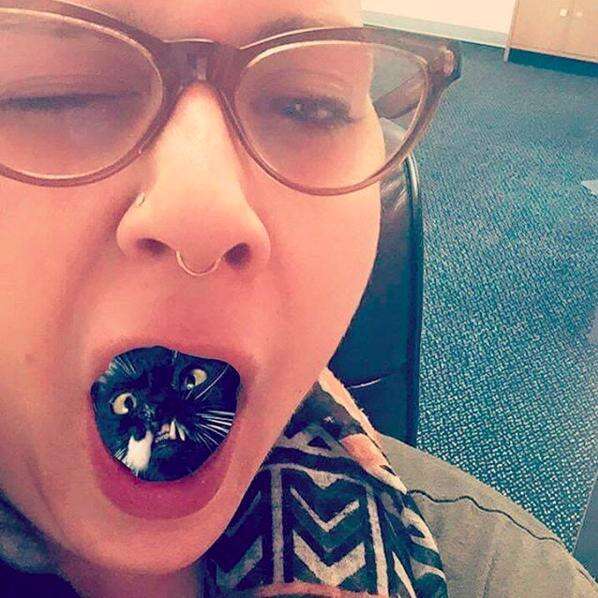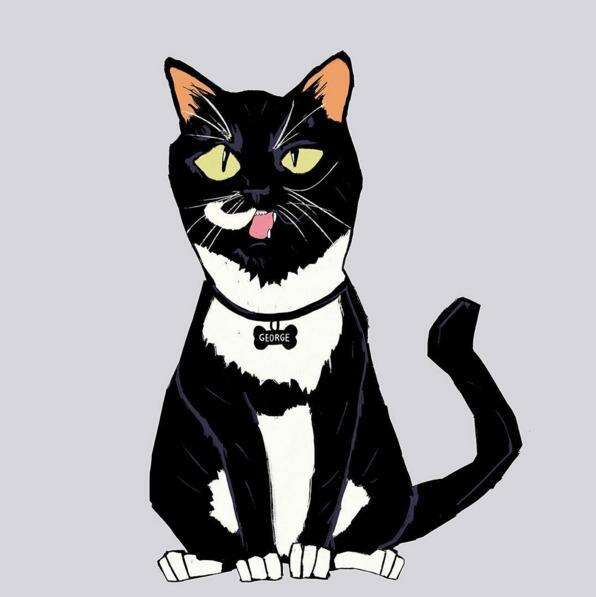 "I'm still just so moved from all the people who follow him on social media," Zezeski said. "He brings a smile to my face every day and I am so happy to know that he does that for thousands of others as well."
Zezeski has stayed active in advocating for animal adoption, especially for those who might get overlooked in crowded shelters or rescues because of the way they look. "Although my four other cats are 'normal,' they were all considered less adoptable at the rescues I got them from," she said.
"I know he has a quirky little face, but he's such a normal cat!" Zezeski said. "Life with George is amazing and the attention he has been receiving is so overwhelming!"
To see more of George's charming good looks, visit his Instagram page, My Cat George.