It seemed like just another flea collar - a bluish-green band, touted as having a dual-action effect.
That's supposed to mean Sergeant's Dual Action Collar kills both fleas and ticks.
Teresa Crandall says it also killed her cat.
Teresa Crandall
Crandall picked up the popular collar earlier this month at a pharmacy in Lexington, Georgia, she tells The Dodo. Then she strapped it on her spirited, rambunctious little Onyx.
And then her cat - the one her family had adopted, the all-black cat who no one else seemed to want, the one who terrorized their dog (who is afraid of everything) - underwent a horrifying transformation.
In the days ahead, Onyx would suffer blindness, seizures and paralysis before he was found dead.
Of course, Crandall removed the collar at the first sign of her cat's discomfort: hair loss and a sharply diminished appetite.
But it seemed too late for Onyx, who suddenly went from a picture of health - "He was a shoulder cat," Crandall says. "We often said he was part parrot." - to tragedy.
Teresa Crandall
She had to explain to her boys, 12 and 8, that their cat had been "poisoned by a collar that was supposed to help him." He died over the weekend.
Was there a warning on the box? Special instructions?
"I don't know, honestly," Crandall says, "which makes me feel awful because I never did look. I just trusted, which I should have never done."
Sergeant's has not responded to several calls and emails from The Dodo. Crandall says she sent a letter to the company and received a prompt response:
"They sent their sympathies and asked us to send them the collar, any packaging, and to fill out a detailed incident report. I haven't looked at it all yet because I quite honestly haven't wanted to face it just yet."
Teresa Crandall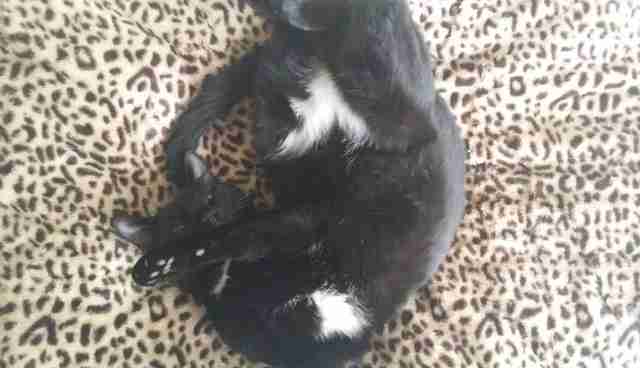 The packaging, however, may be a critical factor. John Gicking, an emergency and critical care vet at BluePearl Veterinary Partners Tampa hospital, isn't familiar with this specific collar. But, he tells The Dodo, "it is known that some flea products for dogs are toxic for cats."
While that's not the culprit in Onyx's case - the Sergeant's collar Crandall bought is specifically for cats - Gicking suggests talking to a vet about flea and tick remedies before buying something at the pet store.
Erika Loftin, a critical care specialist with DoveLewis Emergency Animal Hospital, doesn't recommend flea collars at all.
"They tend to have a very local affect," she tells The Dodo. "In other words, they might control the fleas on the head or the neck but if some of the fleas come running down the animal and bite them some place else."
Tragically, it's also possible for a pet to die from the wrong treatment.
"I think, in general, the way they work is there are chemicals associated with the collar, embedded in the collar, that are toxic to fleas," she explains. "Fleas are more sensitive to that than mammals because they have differences in their nervous systems.
"But I think there is always a chance that you'll have a particularly sensitive animal or perhaps a collar that was intended for one type of animal put onto another type of animal."
But there were other warnings. Specifically, hundreds of messages about the collar on Consumer Affairs, a site dedicated to product testimonials.
Disturbing accounts extend even to Amazon, where the product's comment section is riddled with warnings - from one customer complaining about "severe blistering" around a cat's neck to another claiming the collar induced painful vomiting.
Of course, these users may be no more legit than the ones who rave on the same site about how it "works well on my 5 cats!"
(There is, unsurprisingly, nary a negative comment on Sergeant's own Facebook page, which boasts more than half a million likes.)
Teresa Crandall
For Crandall, the message is brutally clear:
"Please be careful with what you put on your pet," she says. "I am aware that there are lots of people who have used these collars in the past and their animals were fine - I'm one of them even - and that some animals do have adverse reactions.
"However, there is no way to tell if your pet will be one of those who do have a reaction to a product until it's too late. A lesson we learned the hard way."
Looking for tips on how to prevent and treat flea infestations without resorting to a flea collar? Check out this handy guide.